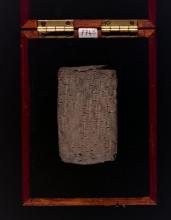 The collections of the Thomas Fisher Library are many and varied, reflecting the wide diversity of research conducted at the University of Toronto by its own faculty and students, visiting scholars, and the general public. Chronologically, the collections range from a 1789 B.C. Babylonian cuneiform tablet from Ur (seen at left), to original drafts and printed works of contemporary Canadian writers. Among the oldest printed books in the collection are a copy of Johannes Balbus's Catholicon, printed in the 1460s, possibly by Johann Gutenberg (placed on long-term deposit in the Library); an early Hebrew imprint, Moses Maimonides' Mishneh Torah printed in Rome about 1475; the Concilium zu Constencz, printed Augsburg in 1483, with hand-coloured woodcuts; and, the Compost et Kalendrier des bergeres, an almanac printed in 1499.
The greatest strengths of the Library lie in the fields of British, European and Canadian literature, philosophy, theology, political science, the history of science and medicine, Hebraica and Judaica, and the history and art of the book.
In addition to the general rare book collections, the holdings of books and other printed material are organized in over one hundred special author or subject collections, focussing on fields as diverse as AIDS, Aristotle, Birdsall Bindings, Darwin, Aldous Huxley, Incunabula, Libretti, Petlice, Printed Ephemera and the Spanish Civil War.
The Fisher Library is actively involved in digitization of our specialized print and manuscript collections with a view to providing increased access to our holdings. A list of digital projects completed is available on the Digital Collections page. Selections from the Fisher collections and additional information on Fisher resources and services is also available through our YouTube channel, Facebook page, Flickr stream and Instagram. All digitized material is freely available.