The Library's Canadian holdings are extensive and include many special collections. Canadian literary and historical collections are especially comprehensive and wide-ranging, including much manuscript as well as printed material. There are many works of Canadian interest scattered throughout the Fisher Library's general and special collections, including the history of science and medicine. There are extensive holdings for nineteenth century, alternate press, and women's movement periodicals. Maclean-Hunter and Southam Press have deposited runs of their journals, including specialized titles like Canadian Footwear, Domestic Heating and Plumbing, Quill and Quire, and Style, as well as more general magazines such as Maclean's and Chatelaine. Art exhibition catalogues from galleries across Canada are also collected.
Historical Collections
The Northwest and the Arctic
One of the most interesting groups of historical material pertains to the search for the Northwest Passage and the subsequent exploration of the Arctic. First editions of works by seventeenth century explorers include Northvvest Fox (1625) by Luke Fox and A Strange and Dangerous Voyage (1633) by Thomas James. The eighteenth-century Dobbs-Middleton controversy over the search for the Northwest Passage is well documented both by printed material and by a notable group of manuscripts (1749-1752) from the files of the solicitor for the Hudson's Bay Company, Joshua Sharpe. Highlighting the holdings of early nineteenth century Arctic material is a manuscript journal and a volume of watercolour drawings executed by Owen Stanley, second lieutenant on Sir George Back's northern expedition of 1836-1837. After the disappearance of Sir John Franklin's expedition to the Arctic in 1845, the story of the search for the Northwest Passage became the saga of the search for Franklin. Forty-two expeditions in search of his vanished party were launched over the next twenty years and the published accounts of their adventures and discoveries form an engrossing part of the Library's Arctic exploration material.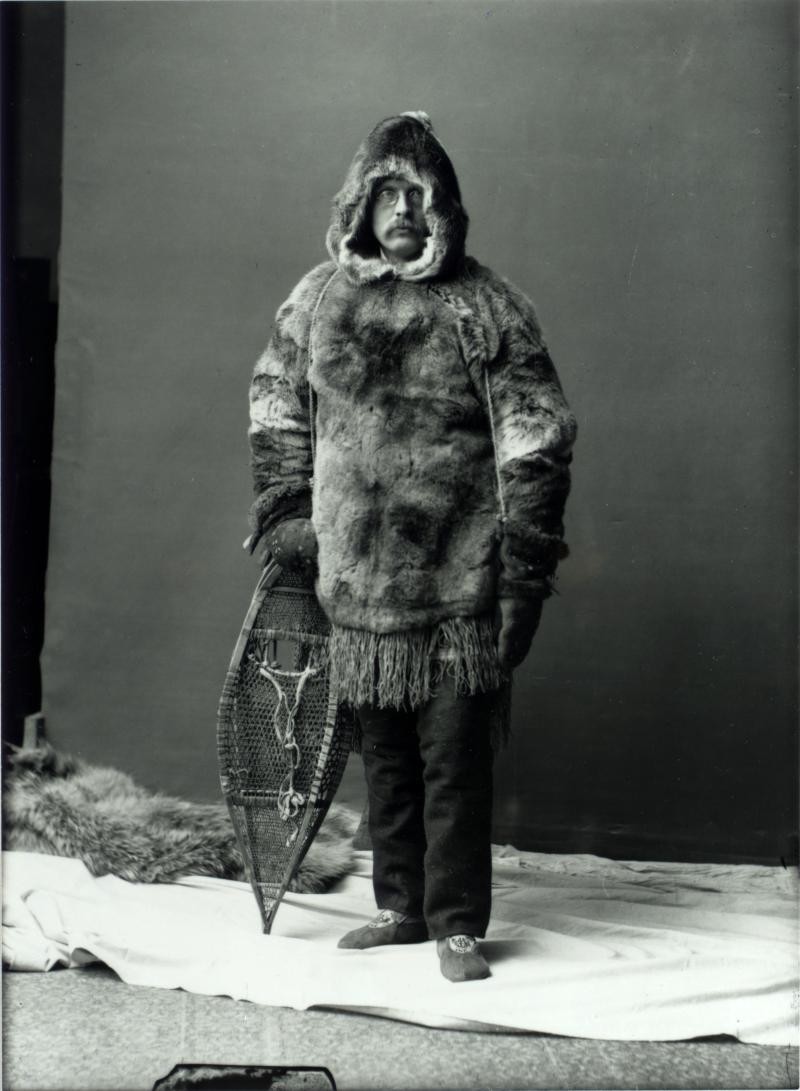 The overland exploration of northwestern Canada is also well documented. First or important editions of such explorers as Samuel Hearne and Sir Alexander Mackenzie are complemented by one of the Library's outstanding manuscripts, David Thompson's "Narrative of his Explorations in Western America, 1784-1812". This manuscript came to the Library as a gift from Joseph Burr Tyrrell (pictured at left), himself an explorer of note, a geologist, and a mining engineer. Tyrrell's own papers, bequeathed to the Library on his death in 1958, contain journals, photographs, and maps documenting his expeditions across the Barren Lands in 1893 and 1894, and include as well material relating to the Klondike where he lived from 1899 to 1905. The Champlain Society, which first published Thompson's Narrative, edited by Tyrrell, as well as many other important accounts by early explorers and fur-traders, has also deposited its records and papers in the Library.
Colonization and Emigration
Part of the Library's Canadiana collection is devoted to early colonization and emigration schemes. An outstanding item from this category is Richard Whitbourne's A Discourse and Discovery of New-Found-Land, published in 1620. The Library's copy bears the royal arms of King James I to whom the work is dedicated. Other interesting colonization material includes documents relating to Lord Selkirk's struggle to bring Scottish settlers to the Red River District. Material on nineteenth-century settlement and immigration is also well represented, and a sample of these have been digitized and made available in the Fisher's Canadian Pamphelts and Broadsides online collection.
Politics and Local Affairs
Among the many manuscript and special collections are a number of special interest in the field of politics and local affairs.
Sir Allan MacNab Papers
The personal papers of Sir Allan MacNab (1798-1862), member of Parliament for Wentworth County and Hamilton, chiefly relate to his property transactions, but include some material relating to the Rebellion of 1837-1838.
Louis Melzack Collection
This very large collection of manuscripts contains much unique material, some relating to the settlement of the Brockville area, documented in the William and Alexander Morris papers, and the original Loyalist settlement of the Eastern Townships of Quebec. There is also a series of letters from Bishop Jacob Mountain to Herman Witsius Ryland, 1807-ca. 1825; correspondence and other documents belonging to Sir Charles Hastings Doyle (1804-1883), Lieutenant-Governor of New Brunswick, and of Nova Scotia; log books kept by Robert Jukes Hughes, 1862-1863; and letters and documents relating to the Washburn family of Prince Edward County.
J. Stuart Fleming Collection
This collection, with a focus on Niagara Falls, Owen Sound, and Grey and Bruce counties, includes books, pamphlets, periodicals, maps, and drawings and prints of Niagara Falls, and is complemented by a manuscript collection pertaining to the Fleming family.
James Mavor Papers
James Mavor (1854-1925), was a professor of political economy at the University of Toronto from 1892 until his retirement in 1923, when he was named professor emeritus. He was active in establishing the Toronto Art Gallery and the Royal Ontario Museum, and wrote government reports on immigration, wheat production, workmen's compensation, and An Economic History of Russia. Before coming to Canada he had taught at the University of Glasgow and edited the Scottish Art Review. His papers document these activities.
Sir Edmund Walker Papers
Sir Edmund Walker (1848-1924) was president of the Canadian Bank of Commerce from 1907 to his death. Considered an authority on financial matters, he write a History of Canadian Banking (1896) and a number of articles and speeches on banking and related subjects. He was active in the founding of the National Gallery of Canada, the Toronto Art Gallery, the Royal Ontario Museum and the Champlain Society. He was also chairman of the board of governors of the University of Toronto and in 1823, its chancellor. His personal papers indicate the breadth of his activities and interests.
Canadian Literary Collections
The Library holds the University Library's reference collection of Canadian literature. From The New-Year Verses of the Printers Lad printed in Quebec in 1766 to the latest novel written by Margaret Atwood, the Library attempts to acquire all editions, and as many translations as possible, of literary works--poetry, fiction and drama--by Canadian authors.
Canadian literary manuscripts are also actively collected. Among earlier writers represented are Susanna Moodie, Archibald Lampman, and Duncan Campbell Scott. The extensive Mazo de la Roche papers contain the manuscripts for all her novels in addition to her voluminous correspondence. The papers of the imagist poet W.W.E. Ross, whose writings from between the wars presaged the modern poetry movement in Canada, were added to the collection in 1983. Contemporary Canadian writers whose papers are now in the Fisher Library include Margaret Atwood, Don Bailey, Earle Birney, Ernest Buckler, Leonard Cohen, Douglas Fetherling, Mavis Gallant, Graeme Gibson, Dennis Lee, Douglas LePan, Gwendolyn MacEwen, John Newlove, Josef Skvorecky, David Solway, Raymond Souster, Anne Wilkinson, and Eric Wright. The papers of the literary critic, W.A. Deacon, whose book page appeared regularly in Toronto newspapers for over forty years and exerted a strong influence throughout Canada, provide an invaluable resource for students of Canadian literary history from the 1920s to 1960. The papers of William French, his successor at The Globe and Mail, continue this resource to 1990. Further information may be found on the Manuscripts page.
One collection in the general field of Canadian literature is especially worthy of note for students of Canadian publishing and printing history as well as Canadian literature. The Graphic Publishers Collection contains the books, pamphlets, and ephemeral material issued by that firm and associated publishers in Ottawa from 1925 to 1932.
Maps
In addition to the eighteenth and nineteenth century maps and atlases of Canada included in this collection, are many fire insurance plans of Canadian cities and towns providing detailed information about the early development of many communities.