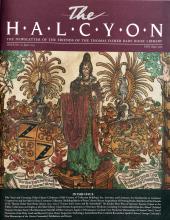 The Halcyon: The Newsletter of the Friends of The Thomas Fisher Rare Book Library is published twice a year, in June and December. The Halcyon includes short articles on recent noteworthy gifts to and acquisitions of the Library, recent or current exhibitions in the Library, activities of the Friends, and other short articles about the Library's collections.
To view the latest issue, June 2023, please click here.
Previous issues of The Halcyon
Index of articles appearing in The Halcyon
Information about the Friends of the Fisher program. 
Comments and queries welcomed.
All contents copyright © University of Toronto Libraries