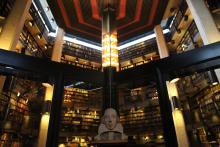 Have you always wanted to know more about the Fisher Library's vast and diverse holdings? Or maybe you're curious about our staff? 
The Fisher has launched a brand-new video podcast series titled Between the Pillars. Every second Friday, at 12:30 pm, we live stream via the Fisher's YouTube Channel a conversation between a staff member from the Fisher and John Shoesmith, the library's Outreach Librarian. The conversations, filmed in the library – between our large pillars, naturally – are casual and relaxed, and based around a particular theme that will showcase many of the library's treasures. (Because of COVID-19 restrictions, most of the episodes from the winter and spring of 2021 were recorded remotely.)
Don't worry if you happen to miss the live stream. We'll be posting them all on our YouTube Channel, as well on this page. For direct links to the episodes, click on the links below.
This is the schedule for the upcoming 2021 season. (Please note, due to restrictions because of COVID-19, this schedule is subject to change)
2021 Season
February 12 - Lawrence Hill - Writers and Their Archives 
February 26 - Danielle Van Wagner - The archives of ordinary people
March 12 - Rachael Fraser - Researching Internet Archive Book of the Week
March 26 - Holly Forsythe - Going down the rabbit hole with the Brabant Alice collection
April 9 - Andrew Stewart - Backlog adventures
April 23 - Timothy Perry - French manuscripts
May 14 - Nadav Sharon - Windows to the Lost World of Medieval Spanish Jews
May 28 - Liz Ridolfo - Food at the Fisher
June 11 - PJ Carefoote - The Delury Collection of Irish Literature
June 25 - David Fernandez - Gay Pride
2020 Season
Nov. 6 - Alexandra Carter - Collecting Science and Medicine
Nov. 20 - Loryl MacDonald UofT and the Wars
Dec. 4 - David Fernández Collecting Latin Americana at the Fisher
Dec. 18 - PJ Carefoote Christmas Treasures