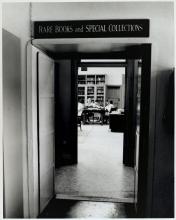 The Thomas Fisher Rare Book Library houses the Department of Rare Books and Special Collections including books, manuscripts and other materials; and the University of Toronto Archives and Records Management Services (UTARMS), which holds the official records of the University.  
The Department of Rare Books and Special Collections was founded in November 1955 by the Chief Librarian, Robert H. Blackburn, when he hired Marion E. Brown, a Canadian graduate of the University of Toronto who had been working in special collections at Brown University. Her first responsibility was to deal with the books and manuscripts that had accumulated in a room called the Art Cupboard since 1890, when the library had been virtually destroyed by the St. Valentine's Day fire which consumed University College. These consisted primarily of a few medieval manuscripts, early printed books, and special volumes of later periods deemed valuable for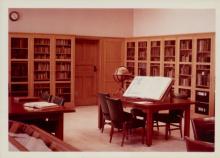 specific reasons, such as the set of Pyne's Royal Residences (1829) that had been presented by Queen Victoria to the University following the fire. The stacks of the main library were the other obvious source for rare materials since this was where the vast majority of purchased and donated books had been dispersed throughout the classification system. The stacks yielded rich results (as indeed, more than fifty years later, they still do) and in 1957 a Rare Book Room was opened, in what is now the rooms above the south end of the Gerstein Science Information Centre, with accommodation for both books and researchers.
The Department of Rare Books and Special Collections and the University Archives were not adequately housed until 1973 when the Thomas Fisher Rare Book library was opened. It is named in honour of Thomas Fisher (1792-1874), who came from Yorkshire to Upper Canada in 1821 and settled by the Humber River. There he operated a grist mill, and played an active role in the public life of the community. In 1973 his great- grandsons, Sidney and Charles Fisher, donated to the Library their own collections of Shakespeare, various twentieth century authors, and the etchings of the seventeenth century Bohemian artist, Wenceslaus Hollar. Since that time the Library has grown to approximately 700,000 volumes and 3000 linear metres of manuscript holdings.
The Fisher building was designed by Mathers and Haldenby, Toronto with design consultant Warner, Burns, Toan and Lunde, New York. It forms part of a complex with the John P. Robarts Research Library for the Humanities and Social Sciences, and the Bissell building which houses the Faculty of Information.