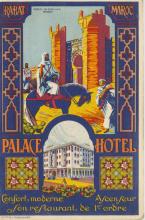 A new album is now up on the Fisher's Flickr page: samplings from our collection of Luggage Labels from the late 19th century to WWII.
The Luggage labels collection is a set of 3,550 beautifully drawn and painted labels by famous artists and printers that were collected over a 25-year period. The collection features famous cities, political parties and hotels. It is a well-rounded collection with labels from over 142 countries, some of which no longer exist.
The collection is available for viewing at the library and can be requested using the call number T-10 00013.