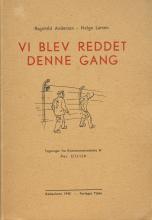 The Thomas Fisher Library is proud to house the Alain Goldschläger Holocaust Literature Collection, one of the largest collections of its kind. Having been involved in a well-known trial of a Holocaust denier in Canada the 1980s, Professor (emeritus) Alain Goldschläger of the University of Western Ontario realized the importance of memoirs - first-hand accounts - of survivors to counter the claims of Holocaust deniers.
Consequently, he established the Holocaust Literature Research Institute at Western and began diligently collecting such memoirs, along with other Holocaust literature, published around the world. Upon his retirement, Prof. Goldschläger generously donated this collection to the Fisher Library in 2021. It comprises of over 3,500 books in nearly thirty languages from forty-four countries around the globe, including many books published in the immediate aftermath of the Second World War, and even some during the War.
Alongside the physical collection, the Holocaust Literature Research Institute also included an annotated bibliography-database of memoirs and testimonies of Holocaust survivors, and that bibliography is now included here in two searchable Excel files (click on the links to access): one for the physical collection and the other for those titles that are not yet included in the physical collection. There is also a separate listing for Holocaust memoirs found elsewhere in the University of Toronto Libraries.
The Fisher Library continues to add to this important collection.
More information about the Goldschläger collection can be found in the December 2021 issue of the Halcyon.