A reflection on a Fisher Archivist's work-from-home projects over the past year.

*   *   *

As an archivist at the Fisher Library, the recent Doors Open posts led me to reflect on the past fifteen months we've spent working from home, and how the nature of our jobs have changed throughout this pandemic. With the exception of going in occasionally to consult and scan material for reference requests, I've found, like many other archivists and librarians, that my role has changed, and I've had to constantly adapt throughout this period. Consider this a 'Doors Closed' post, as the image above suggests, that explores several archival projects that have been on-going since the spring of 2020.
In a typical year at the Fisher, we receive about 50-100 archival donations. These donations range in size from one envelope to hundreds of boxes of material. The sheer quantity of these archival materials mean that we dedicate a great deal of time at the library to processing, arranging, and describing records. However, like many other archivists, the on-going public health restrictions and lockdowns have prevented us from being at work to receive and process new material. As a result, most of our time has shifted away from processing and towards a focus on assisting researchers and the public with reference questions, continuing our community outreach, and making our collections more discoverable online.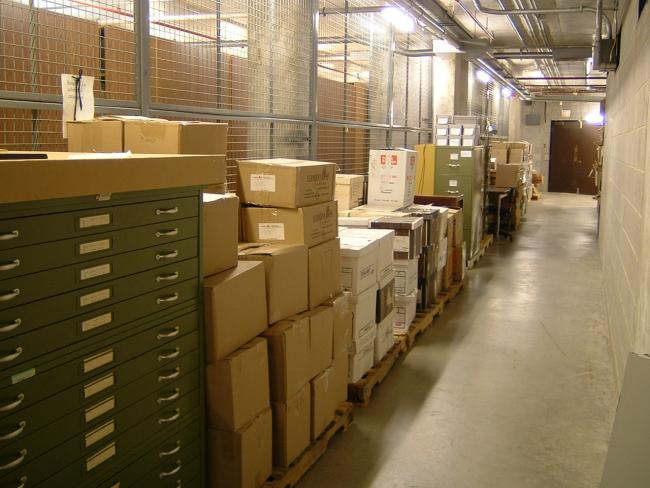 A behind-the-scenes look at unprocessed material in the Fisher Library basement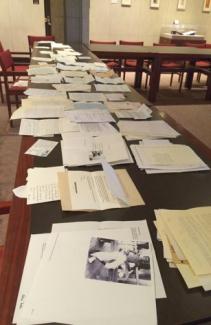 Updating records and making our collections more discoverable
Despite the challenges posed by working offsite, one of the opportunities this has provided is a chance to catch up on updating our online records. This consists of updating the alphabetical listing on our website, the library catalogue, and Discover Archives by adding the finding aids of newly processed holdings.
In the process of updating records, we also were able to add the Fisher's "non-archival" holdings to the Discover Archives database, making the items in these collections more visible and keyword searchable. These non-archival holdings essentially refer to material outside of our personal paper archives and include collections of beer labels, menus, ephemera, and general manuscripts that have finding aids.

Examples of items in collections now available on Discover Archives: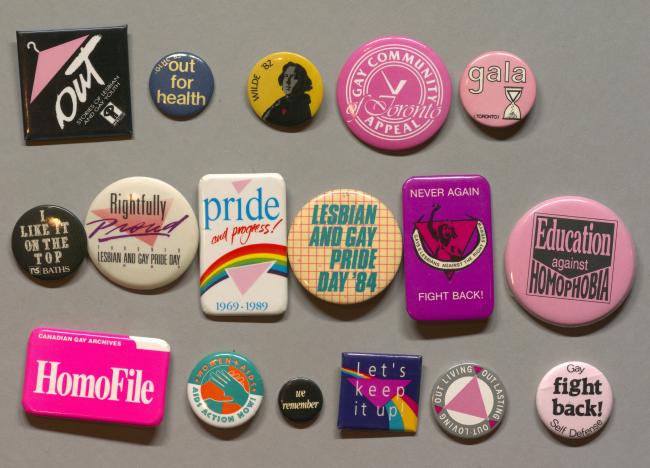 Ephemera: Collection of lapel buttons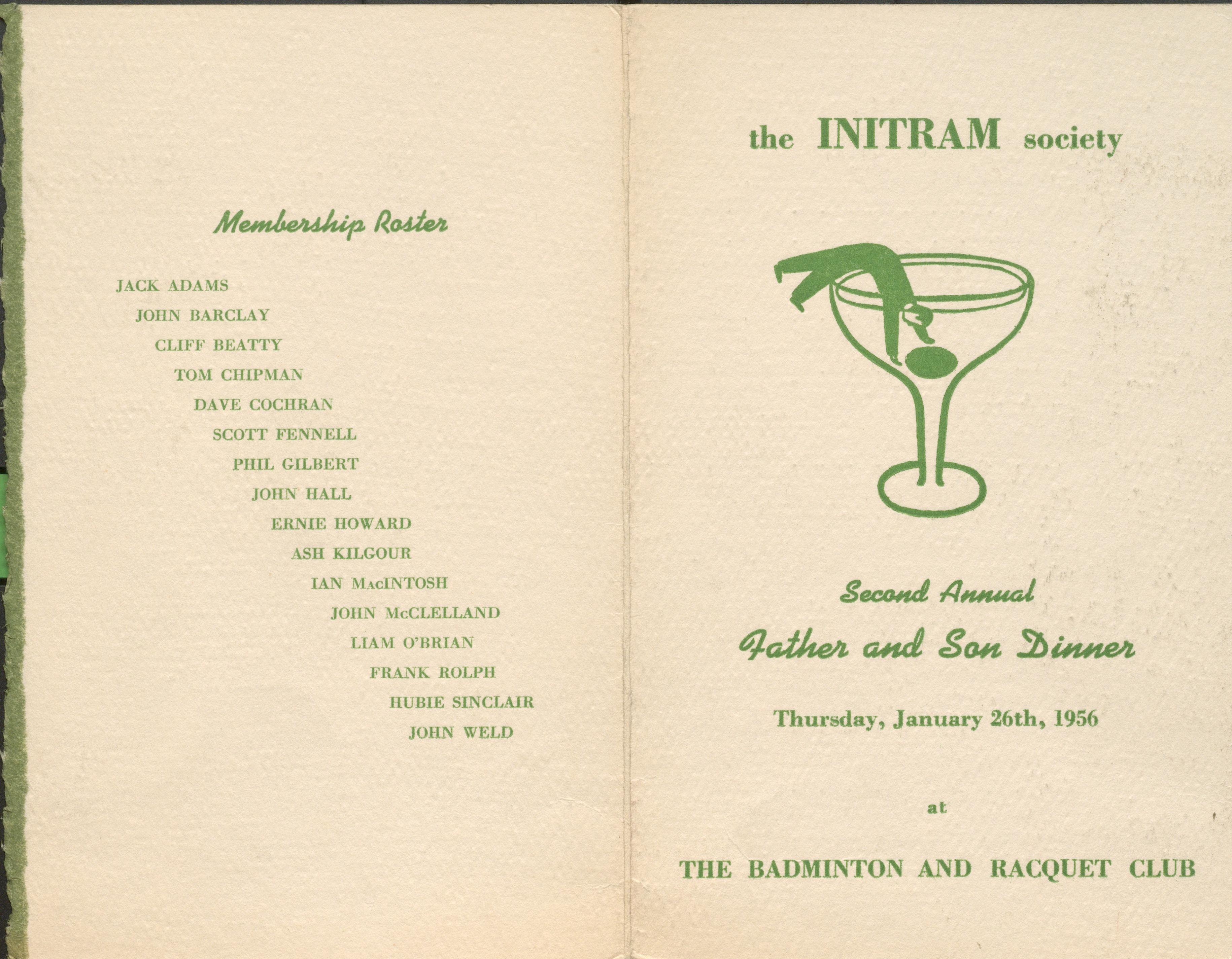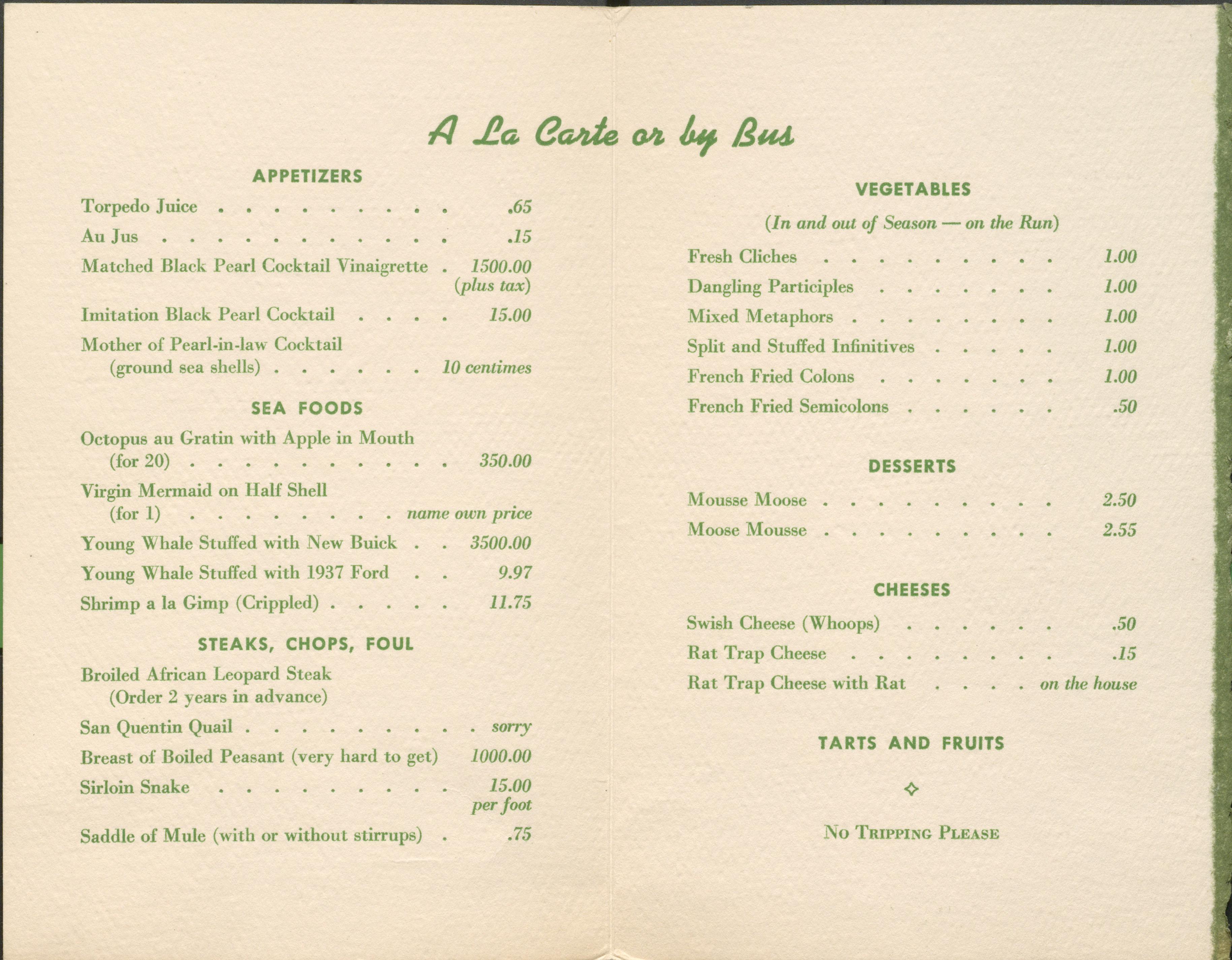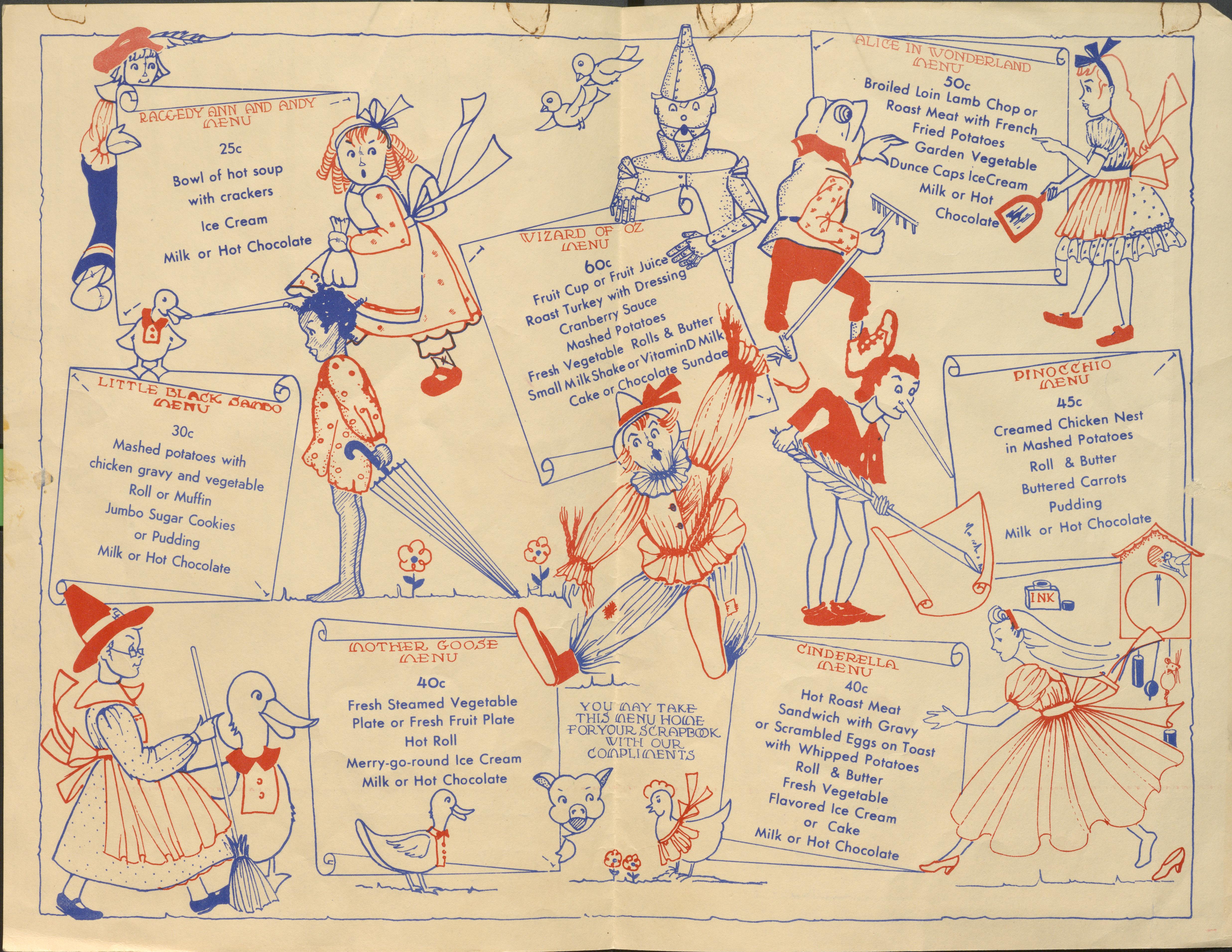 Images from a Collection of Canadian menus 1853-1967 (T-10 00100)

In addition, we have also ensured that all links to the Fisher's 750+ archival collections were updated and ready for the catalogue switchover from Sirsi to Alma (thanks to Liz Ridolfo, contract archivist Khadija Alexander, and our students, Kyle Pugh and Ethan Rosenberg for their help with this). Updating the links in the catalogue means that all of our collections can be more easily accessed and engaged with. We have also been continuing work on re-typing old typescript finding aids to make them more accessible.

Projects involving metadata clean-up and finding aid migration have also led us to the revisit and re-evaluate the language and descriptions of material in the library's historical collections. This will be an on-going process but we are currently looking into best practices on identifying material in our collections that require content warning or further contextualization.

Reference services
Another area I've been able to focus on is assisting researchers with reference questions. During this time, we have still been able to provide limited reference services and scans to researchers. In a typical year, we are usually only aware of a small percentage of the projects and research that involve material in our collections; however this year, since the library has been closed, library staff has had to assist with all requests. During the pandemic, it's been interesting to see the various ways in which resources in the Library have been used.

We have continued to receive a lot of questions from patrons requiring scans of material from the archives. These questions can range from reporters requesting Margaret Atwood's newspaper clippings for The Handmaid's Tale, to a request for a Lawrence Hill interview with historian, Alvin Duncan regarding Oakville's early Black history, to questions pertaining to the discovery of insulin. These queries help to provide insight into how our collections are engaged with (and in the process, we often learn something new as well!). 

Mounting exhibitions online on Omeka
Although working from home has posed obvious challenges with regards to accessing archival materials, it has also allowed for some rewarding exhibition opportunities. Specifically, the mounting of the digital exhibition for the centenary of the discovery of insulin with my colleague, Alexandra Carter. Initially this was supposed to be a physical exhibition to celebrate Insulin 100 held in the library, however it was shifted online due to Covid-19. This online exhibition was an excellent opportunity to highlight our collections pertaining to the history and development of insulin, complementing the Library's existing insulin site, which is more of a database.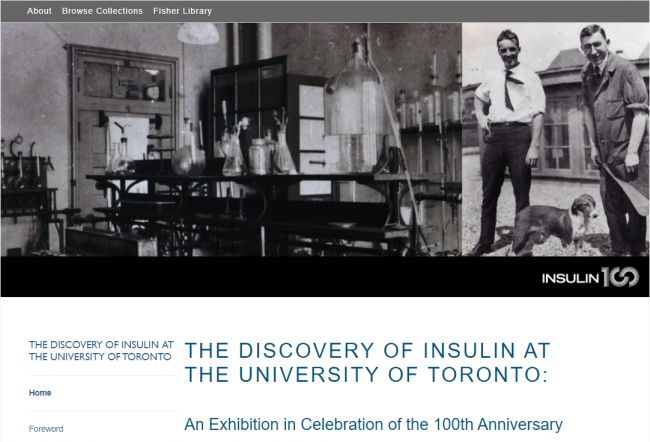 Preview of the homepage for The Discovery of Insulin at the University of Toronto: An Exhibition in Celebration of the 100th Anniversary

The mounting of digital exhibitions on the Omeka platform has been a fantastic way to display and provide access to highlights of our collections online. Fisher staff has mounted several exhibitions that were previously displayed in the library, including exhibits on Shakespeare, Canada in Print, gardening, censorship, and Canadian literature (the last exhibition hosted in person before the library's closure, co-curated by myself and my colleague, John Shoesmith). These digital exhibitions feature highlighted items, alongside captions and audio guides. Some other great new displays mounted by Fisher staff include exhibitions on World War I, Black History, Christmas, and an upcoming LGBTQ+ exhibition. Andrew Stewart and Danielle Van Wagner have written a blog post on all of the great work they've done in recreating the Fisher's exhibitions online, which can be viewed here.

Classes, seminars, and tours
Despite library closures and not being able to host classes and show material in person, the Fisher's staff continues to offer virtual seminars. Many of the classes I provide sessions for often have an assignment that requires students to work with physical archival collections in the library. This year, however, they've had to rely heavily on what's already digitized and what I'm able to scan since they are unable to consult resources in person.

Digitized online manuscript material, like the material from the General James Wolfe and Otto Schneid collections have proven to be very useful for assignments and have led me to explore other collections (that don't have serious copyright issues, of course) that may benefit from digitization.

Between the Pillars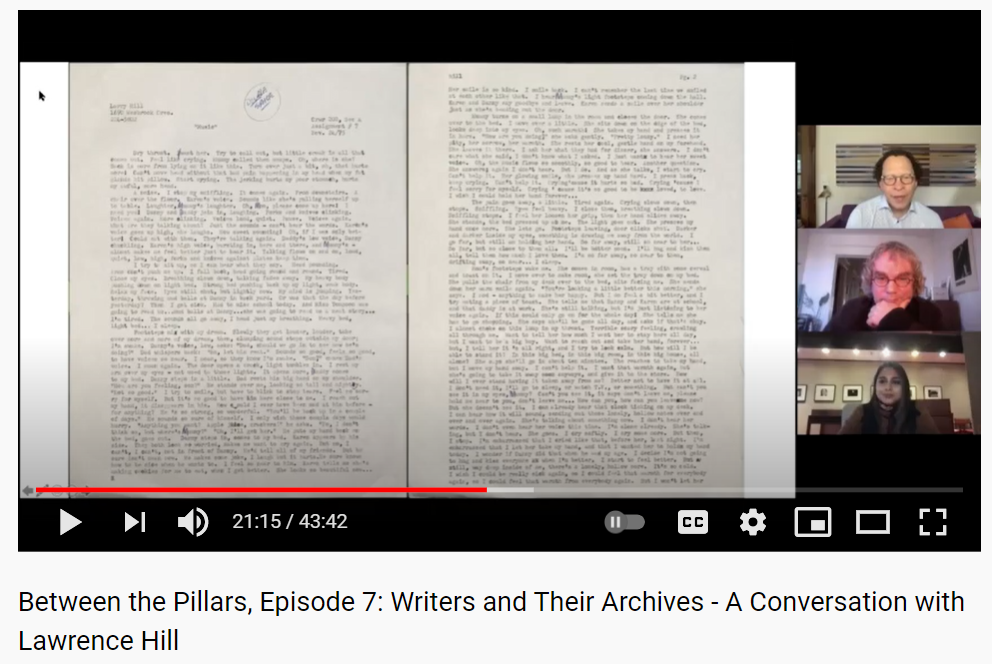 An additional outreach activity I participated in was John Shoesmith's new Between the Pillars podcast series. In a special Writers and Their Archives edition, we interviewed acclaimed author Lawrence Hill about his work and his archives, which we are fortunate to have at the Fisher. This was a great opportunity to not only showcase and discuss Hill's archives, but also learn more about his writing process and his development as an author. The full interview can be viewed here. 

Investigation into archiving email and social media
Lastly, as it happens often at the Fisher, specific reference questions can lead us to investigate new ways of collecting and preserving archival documents. In this instance, a reference question about one of Margaret Atwood's Tweets from 2012 and a request from one of our donors regarding donating their emails prompted a closer examination into what we can do to streamline the collection and preservation of email and social media. This will likely be a rich resource for researchers in the future and I'm looking forward to learning more about collecting these materials moving forward. 

Although I know we will be returning to the library in the near future, I look forward to continuing these outreach activities and processes that help to make our collections more visible.    

- Natalya Rattan, Archivist