The Fisher Library has several significant collections of Hebraica and Judaica, including some unique manuscript and archival resources.
Friedberg Collection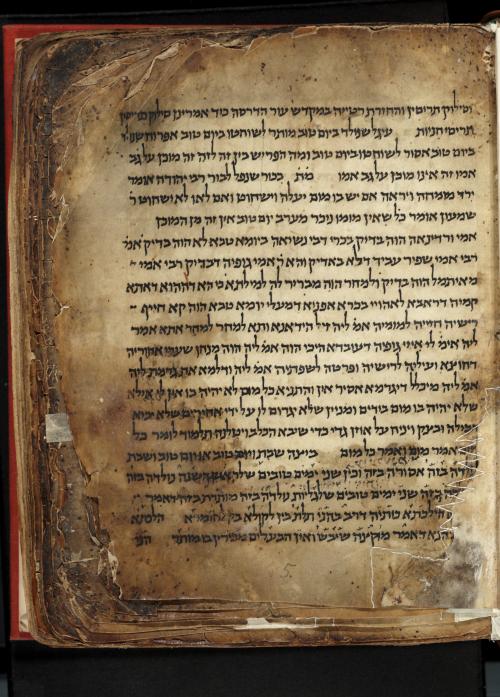 The Friedberg Collection is a fine collection of Hebrew manuscripts and early printed books of exceptional quality and significance. Among the manuscripts in the collection are some of the oldest specimens of Hebrew texts to have survived the vicissitudes of time, and the trials and tribulations of a wandering people. The 10th century codex of Halakhot pesukot, a legal compendium, is one of the earliest intact Hebrew codices in existence. A 10th century Pentateuch, written in very large script is an interesting specimen of great codicological and palaeographic significance. The collection includes several important Genizah fragments, including some from the Mishnah with supraliteral vocalization and a large section of the Talmud, Shabbat which dates from 12th century Byzantium. Another extremely important manuscript is a 15th century copy of the Zohar, the major work of Jewish mysticism, written in Crete by the well-known scribe, Shabbetai Balbo. The manuscript has added historical significance by virtue of a colophon which attributes its ownership to Shabbetai Zevi, the famous mystical false Messiah of the 17th century. Other important manuscripts, include a complete Bible (available online), written in Toledo, Spain in 1307 , two Rashi manuscripts (13th-14th centuries), several liturgical manuscripts, included one with some charming illuminations, a 14th century Sefer Mitsvot gadol and a 15th century Sefer Mordekhai.
Another unique and impressive piece is the Montefiore Tribute Album. This album (also available online) was prepared by members of Hovevei Zion,a proto-Zionist group active in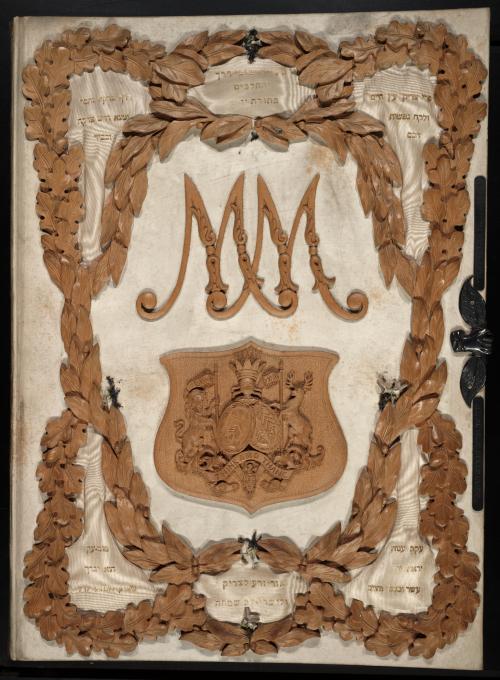 Eastern Europe in the latter half of the 19th century. It contains tributes to Moses Montefiore, the great Jewish statesman and philanthropist, from various communities, each of which was written on a separate sheet of parchment, and signed by rabbis and communal leaders. The album was then assembled and bound in Warsaw and was presented to Montefiore on the occasion of his 100th birthday in 1884. It contains over 1300 signatures altogether and thus constitutes an important source for the study of the history of the period.
Printed works in the Friedberg Collection include 21 incunabula, an extensive collection of early Constantinople imprints and many other 16th-century items and others of more recent vintage, some of them unique and hitherto unrecorded.
Price Collection of Rabbinics
The Price Collection is an important collection of printed rabbinic material, including over 300 items printed before 1800. It is especially strong in responsa and Talmudic commentaries. It is a significant monument to the life of one of Toronto's most influential twentieth-century rabbinic figures, Rabbi Abraham Price.
Other Manuscripts
The library also owns a small collection of Yemenite manuscripts, from the 18th-19th centuries and a scroll of the Tikkun leil Shavu'ot, which contains selections from the Torah, intended for reading and study on the first night of the festival of Shavu'ot (Weeks), which commemorates the giving of the Torah at Mount Sinai. The library holdings also include a Samaritan Pentateuch manuscript, copied in Shekhem (Nablus) in formal Samaritan script, which resembles the ancient Hebrew script of biblical times.
Otto Schneid Archive of Twentieth-Century Jewish Art
This collection contains the material gathered by Otto Schneid, artist and art historian, in preparation for writing a monograph on twentieth-century Jewish art. The archive includes German and Hebrew versions of Schneid's monograph, copies of his other articles and books, Schneid's correspondence with artists, autobiographies of same, reproductions of the art work of some 160 artists, art books and pre-World War II exhibition catalogues, as well as Schneid's correspondence with world leaders and important figures on questions pertaining to human survival. A detailed finding aid facilitates access to the collection. The collection has also been digitized and is available on the Internet Archive.
The Druck Collection of Kibbutz and Secular Haggadot and Holiday Ephemera
A collection of kibbutz and secular haggadot, as well as other holiday (often haggadot-like) materials, dating from the mid-1930s to the mid-1990s. Most of this material was produced in-house by various kibbutzim, youth movements and army units for use at seder celebrations, as well as other holidays. One of the largest of its kind in the world - with over 500 items - this collection documents how kibbutzim and various Zionist, socialist, and secular groups and movements in Israel and around the world created new liturgies to satisfy their own spiritual needs. The collection also includes a number of Passover-related publications such as synagogue and army base newsletters published before Passover. The bulk of the collection was assembled by Jerusalem collector Arnold Druck, and the Fisher Library is continuously adding to it. A searchable Finding Aid for the collection is available. Many of these Haggadot have been digitized and are freely available via the Internet Archive. The bulk of the collection was assembled by Jerusalem collector Arnold Druck, and the Fisher Library is continuously adding to it.
The Alain Goldschläger Holocaust Literature Collection
The Alain Goldschläger Holocaust Literature Collection is one of the largest collections of its kind. It comprises over 3,500 books, primarily first-hand accounts from Holocaust survivors, in nearly thirty languages from forty-four countries around the globe, including many books published in the immediate aftermath of the Second World War. More information on the collection.
Naomi Bell Collection of Jewish Folk Music
Consisting of 23 boxes, this collection includes an extensive collection of Yiddish folk songs and other songs, primarily in Yiddish and Hebrew, including Canonical and Art Songs. Also includes some rare and fragile music and song books; cassettes of 'Naomi's Programs' and collected songs; as well as research notes, lecture-recital material, workshops and presentations created and presented by musicologist, teacher, accompanist and lecturer Naomi Bell. A searchable finding aid for the collection is available.
Chava Rosenfarb Papers
The collection includes the drafts, proofs and correspondences of the renowned Yiddish author and Holocaust survivor Chava Rosenfarb (1923; Lodz, Poland - 2011; Lethbridge, Alberta). Searchable finding aids are available.