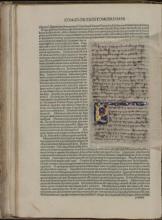 ISBN 0-7727-6049-7, 24 pages
Due to popular demand this catalogue is sold out
In "Commentary" Toronto-based artist Sylvia Ptak creates gauze 'texts' inspired by items from the Thomas Fisher Rare Book Library's collection. Works in the exhibition explore the multiple meanings that texts generate. Ptak simulates script to create texts of indecipherable writing. The works are comprised of fabric 'pages' and interventions within texts from the library's collection. The exhibition was prepared by Sylvia Ptak and the accompanying catalogue by Kyo Maclear and Sylvia Ptak.