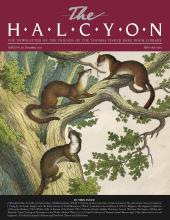 The DeLury Collection of Irish Literature. John Graves Simcoe's library. The Alberti Collection of ear, nose and throat materials. Editions of Petronius collected by Gilbert Bagnani. Margaret Atwood's juvenilia. In keeping with the reflective nature of the season, these are just some of the current and former donations that have intriguied Fisher staff, and which are examined in the most recent issue of The Halcyon, the Friends of Fisher newsletter. This issue is a tribute our donors' generosity and to the impact of their giving. 
Owing to the continuing pandemic, the December issue is a digital-only copy. The PDF can be downloaded direct via this link: December 2020 issue of the Halcyon. 
All previous issues of the Halcyon can be found on The Halcyon page on the Fisher's web site.