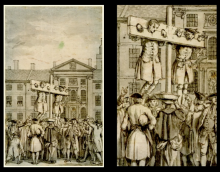 The first Friends of Fisher lecture was broadcast on Thursday September 24. Owing to the library's continued closure due to Covid-19, the lecture was broadcast via Zoom. The lecture can be found on on the Fisher's YouTube channel via this link, or viewed below.
The Alexander C. Pathy Lecture on the Book Arts
Dr. Thomas Keymer will speak on Authorship, Print, and Sedition in Eighteenth-Century England
Date: Thursday 24 September 2020
Time: 6:00 pm
On the lapse of the Licensing Act in 1695, wrote the great nineteenth-century historian Thomas Macaulay, "English literature was emancipated, and emancipated for ever, from the control of the government." Not quite. Pre-publication censorship was at an end; post-publication retribution took over. This lecture considers the consequences for print culture of seditious libel prosecution and the sanction of the pillory, and draws conclusions from exemplary cases involving authors and other book-trade professionals between 1630 and 1820.
Bio: Dr. Thomas Keymer is University Professor and Chancellor Jackman Professor, University of Toronto.