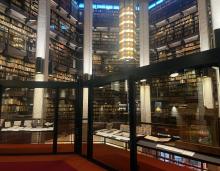 We know our weekday hours can be challenging for some when trying to visit the Fisher. Good news: as part of Fall Campus Day on the St. George campus at UofT, we will be opening our doors this coming Saturday, November 18, from 10am to 4pm. Visitors are welcome to come view the current exhibition on our toy theatre collection, or just come to chat with one of our librarians and learn more about the collections while enjoying our beautiful space.
Please note the reading room will not be open for researchers.
We hope to see you on Saturday!