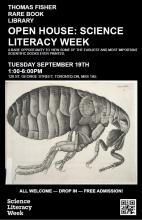 The Fisher Rare Book Library is once again presenting a unique opportunity to view some of the most important scientific books ever printed. Visit the library on the afternoon of September 19th to a see a range of scientific works up-close: from a 14th century Latin manuscript of Euclid's Elements, through to Copernicus' revolutionary 16th century work on planetary motion, to a milestone work of anatomical illustration by Andreas Vesalius - along with more of the earliest works on chemistry, physics, biology and medicine.
Date and Time: Tuesday, September 19th, 1:00-6:00PM
This is a drop-in event and open to the public.
Other events at UofT Libraries during Science Literacy Week