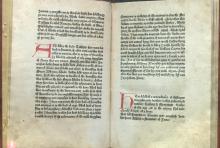 The Fisher is proud to announce one of its most important recent acquisitions: William Caxton's Cicero, printed in 1481. By adding this volume to the library's collection, it becomes the oldest English-language book in Canada, and helps to tell a complete history of printed English-language material at the Fisher.
The book itself includes three texts: Cicero's De Amicitia (treatise on friendship), De Senectute (treatise on old age) and Giovane Buonaccorso da Montemagno's De Nobilitate (treatise on nobility). As such, it is the first English translation of texts by classical and humanist authors.
William Caxton has often been referred to as "England's Gutenberg." A merchant by trade, he began printing books in Bruges, Belgium, and brought the first printing press to England in 1476. In total he produced around 108 books. Only 13 known copies of the Caxton's Cicero exist in its complete form. The provenance of the Fisher's copy can be traced back to one of its first owners, Thomas Shupton, who was thought to be a monk during the time of Henry VIII. It was then given to 16th-century politician Sir Robert Coke, who passed it on to his nephew. After his nephew's death, the book was given to Sion College in London, which kept it until 1977 when it was bought by Mexican author Roberto Salinas Price. The Fisher acquired the text from Price's estate.
The Fisher is grateful as the purchase was made possible by many donors, led by the B.H. Breslauer Foundation and with the support from the University of Toronto through a matching grant.
More information about the Caxton Cicero can be found in the video below, narrated by the Fisher's interim head P.J. Carefoote.