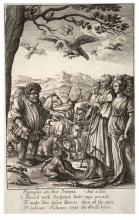 We're back!
The Fisher Library's Between the Pillars video podcast series returns October 15 for another season. Every second week we'll feature a new guest, usually a Fisher staff member, to explore our collections. Special guests will also appear throughout the year.
We start the season on a high when we welcome PJ Carefoote, the head of the Department of Rare Books and Special Collections, in a podcast we're titling "PJ's Favourite Things."
As many of you know, PJ's retirement from the Fisher is imminent. He joins the podcast to talk about his career as a rare book librarian at Fisher, and he shows us materials that have been meaningful to him over the years - including the first book he ever catalogued at Fisher!
The podcast premieres on the Fisher's YouTube channel at 12:30 pm.