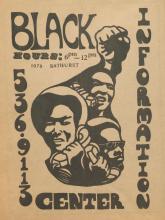 The Fisher is pleased to announce a new online exhibition lauching this week.
Celebrating Black Voices is an exhibition that acknowledges and honours the social, cultural and literary achievements of Black authors and artists in a wide variety of fields: poets, novelists, journalists, playwrights, musicians, memoirists, and many more. Special emphasis is given to the contribution of Black Canadians, though the exhibition includes works produced by Black writers over a period of hundreds of years and across the globe, from Canada in the 21st century to Ethiopia in the 14th. Also included are a small number of works by non-Black authors, whose writings - though often deeply problematic - may, when used with care, provide evidence for otherwise poorly recorded aspects of Black history.
Launched to mark Black History Month 2021, Celebrating Black Voices is intended to be an ongoing project, with new materials added to the exhibition regularly.
Please click here to access the exhibition.
This exhibition was curated by Pearce Carefoote, Alexandra Carter, David Fernández, Timothy Perry, Kyle Pugh, Natalya Rattan, Liz Ridolfo, John Shoesmith, Andrew Stewart, and Danielle Van Wagner at the Thomas Fisher Rare Book Library in February 2021. The online exhibition was prepared by Danielle Van Wagner and Andrew Stewart.