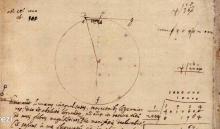 We've added some new audio content over the last week.
If you missed the first Friends of Fisher lecture, the John Seltzer and Mark Seltzer Memorial Lecture, delivered by Nick Wilding, Professor of History at Georgia State University, on his work detecting Galileo forgeries, it is now freely available on the library's YouTube channel. The entire lecture, including slides, can be accessed via this link. Check out some of the Fisher's other audio and video material on that channel after you've finished with the lecture.
While the current exhibition's curator, David Fernandez, will be conducting free tours of the exhibtion on the first Thursday of every month, there is still also a free and downloadable audio guide. It can be accessed via SoundCloud (click link) or on the Fisher's iTunes page.