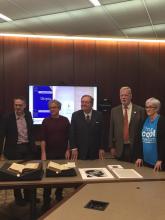 Announcing the inclusion of the Library and Archives Canada and University of Toronto libraries Marshall McLuhan collections in the UNESCO Memory of the World Register!
The collections have been recognized as being 'of such significance as to transcend the boundaries of time and culture' and the register is intended to safeguard the documentary heritage of humanity. The collection is comprised of approximately 50 meters of archival documents in multiple media and 6,000 published items (mainly books), many heavily annotated in his hand, which are preserved by Library and Archive Canada and the University of Toronto Library. For the full description at the UNESCO register site please click here.
This is the second UofT collection to be recognized with this honour. The History of the Discovery and Development of Insulin collection was inscribed to the register in 2013.
Librarian and Archivist of Canada Guy Berthiaume, Chief Librarian Larry Alford, and Dean of the Faculty of Information Wendy Duff gathered to make the announcement, and it was followed by a tour of some material with Robert Fisher, Senior Archivist LAC and John Shoesmith, Outreach Librarian at the Fisher Library. To view the facebook live video of the announcement and tour please click here