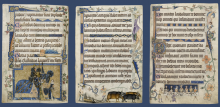 The 27th annual George Kiddell Memorial Lecture will be delivered on Thursday April 22 by one of the world's foremost scholars of medieval manuscripts, Michelle Brown. Her lecture topic is: "The Luttrell Psalter: Incestuous Knights, Abducted Heiresses and Other Everyday Folk in Early 14th-century England."
In this richly illustrated lecture, Brown - formerly Curator of Illuminated Manuscripts at the British Library and Professor of Medieval Manuscript Studies at SAS, University of London - introduces us to the great Psalter commissioned by Sir Geoffrey Luttrell, Lord of the Manor of Irnham (Lincs.), on the eve of the Black Death. It sheds a unique light, illuminating not only the family members and their hopes and fears, but those who worked their manor, the powerful who shaped society and the Dominican confessor who sought, through his lively images in the margins, to bring them all to heel and to promote social justice and spiritual response.
This lecture will be delivered at 6 pm (EDT) via Zoom. Prof. Brown will participate in a virtual Q&A after the lecture.
RSVP INFORMATION
Please email annamaria.romano@utoronto.ca to let us know that you are planning to join us. We will send you the Zoom link and other details after we have heard from you.