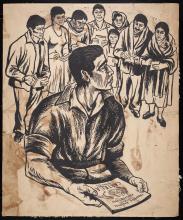 A late medieval manuscript of the first work of Rabbi Moshe ben Maimon, known as Maimonides, who is widely considered the most influential Jewish thinker. A rare first edition of an often-overlooked work by the sixteenth-century astronomer Giovanni Battista Odierna. Books where nature is acting as illustrative artist. These are just three of the areas covered in the latest issue of The Halcyon, the Fisher's Friends of Fisher newsletter, now available for download.
In keeping with tradition, the June issue of the newsletter is an overview of purchases from the past year. The year was a particularly fruitful one for new acquisitions, and demonstrates the library's commitment to strengthening its core collection areas. For example, Canadian social history is covered via a recent purchase of letters written by Black musicians from Hamilton, the Patterson's Jubilee Singers. The library's burgeoning Latin American holdings received a boost via its collection of literatura de cordel, or chapbooks, from Brazil and Mexico, along with stunning examples of street art posters, pamphlets and prints by Taller de Gráfica Popular (Workshop for Popular Graphic arts - an example can be seen above), also from Mexico. The issue concludes with an article on a collection of artist books dealing with marbled endpapers.
To read this and all past issues of The Halcyon, please visit the main page for the newsletter.