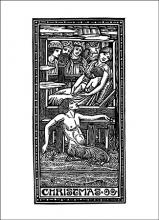 Struggling to find the perfect greeting card to send out this holiday season? The Fisher is again offering holiday cards for sale. We have some new images from our collections as well. At top is a woodcut depicting a kneeling Pan, Magi, and a dove visiting a stable which holds a seated Mary and Jesus by Bernard Sleigh (1872–1954), printed in Birmingham in the late 1880s. This design comes in a package of 10 and sells for $15. The other two, seen below, are from a journal of watercolours by Captain Owen Stanley (1811-1850) when he was on the H.M.S. "Terror" Arctic expedition. These are also available in packages of 10 consisting of five of each design.
Proceeds from the sales of the cards go to the Library Development Fund. We accept cash, cheques, debit, Amex, MasterCard and Visa.
Just come to the library to make your purchase.