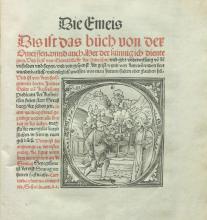 A book of sermons published in 1516 that contains a sermon listing seven reasons why werewolves might attack - and why they especially like to eat children. The latest work from Toronto wood engraver George A. Walker, drawing inspiration from Lewis Carroll by imagining characters from Carroll's The Hunting of the Snark as Donald Trump's cabinet. A women's suffrage cookbook printed in London in the early 1900s that includes a recipe for "cooking and preserving a good suffrage speaker." These are just three of the books that will be on display on Thursday November 15 when the Fisher again hosts an Open House to show off some of our recent acquisitions. The event, which will run from noon until 6 pm, is a on a drop-in basis. So please come and get a closer look at some of our newest treasures. Librarians will also be available to chat about many of these new materials.
We hope to see you there!
If you require additional information, please e-mail us.