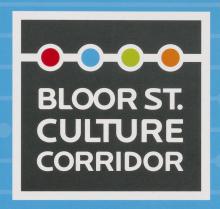 The Fisher Library is proud to announce that it is joining the Bloor St. Culture Corridor, Toronto's most diverse arts and culture district.
The Bloor St. Culture Corridor, launched in April 2014, is a true creative cluster, an arts and culture destination, and a collaboration between some of Toronto's most dynamic arts and culture organizations.  Its organizations present arts and cultural events for the public year-round in destination venues located in a cluster along a vibrant 2km stretch of Bloor Street West, including museums, film screenings, art exhibitions, music concerts, culture talks, theatre, architecture, and more. It also offers opportunities to experience some of Toronto's most accessible cultural diversity, including Aboriginal, French, Jewish, Italian, Japanese, Estonian, African, and Caribbean arts and culture. In 2016, the Bloor St. Culture Corridor was successful in working with the City of Toronto to have the Bloor St. Culture Corridor section of Bloor St. West designated an official City of Toronto cultural corridor.
Information about the Fisher's exhibitions and events will be posted on the Fisher's Culture Corridor's web page, giving the library greater visibility within our neighbourhood and the broader cultural community.