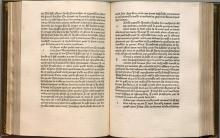 In 2018, the Fisher Library announced that it had acquired William Caxton's Cicero, printed in 1481. It is the oldest English-language printed book in Canada.
On June 24 – fittingly, on Saint-Jean-Baptiste Day – the library unveiled a recent purchase that complements the Cicero: Recueil des histoires de Troyes, printed by William Caxton, which will be the oldest French-language printed book in a Canadian collection. In fact, it has a claim be the first book printed in French.
In 1474-1475, Caxton printed the Recueil des histoires de Troyes in the Low Countries. Through the generosity of our donors, and a legacy gift from the Estate of Barbara Jane Coburn, this masterpiece of Caxton's early work now finds its home in the collections of the Fisher.
To mark this exciting purchase, the Fisher held a special virtual event via Zoom that featured Fisher Librarians PJ Carefoote and Timothy Perry in a discussion moderated by John Shoesmith. Also participating were Larry Alford, the University of Toronto's Chief Librarian; Loryl MacDonald, Director of the Thomas Fisher Rare Book Library; and Michael Cassabon, the Director of Advancement at the University of Toronto Libraries. It can be viewed below.