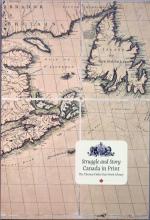 The Fisher Library has again garnered a prestigious award for one of its exhibition catalogues.
The Association of College and Research Libraries (ACRL) Rare Books and Manuscripts Section (RBMS) has selected the library's Struggle and Story: Canada in Print as the winner in the Division Two (moderately expensive) category for the 2018 Katharine Kyes Leab and Daniel J. Leab "American Book Prices Current" Exhibition Awards. The exhibition and catalogue, by the Fisher's interim head Pearce (PJ) Carefoote, was singled out for its research and thoughtfully framed topics. "Its attention to detail is evident in the in-depth catalog entries, as well as in the quality reproductions and nice design features. The committee was impressed that it included folded plates, so as to reproduce maps at a size suitable for reference. This catalog presents a beautiful production and presentation of a well-organized history and that history's methods of documentation."
This is the second year in a row for the Fisher. It was awarded the top prize last year for the catalogue 'So long lives this': A Celebration of Shakespeare's Life and Works.
The awards, funded by an endowment established by Katharine Kyes Leab and Daniel J. Leab, editors of "American Book Prices Current," recognize outstanding printed exhibition catalogs and guides, and electronic exhibitions, produced by North American and Caribbean institutions. The winning catalogs will be on display at the 2018 RBMS Conference Booksellers' Showcase in New Orleans, and certificates will be presented to each winner at the 2018 ALA Annual Conference.