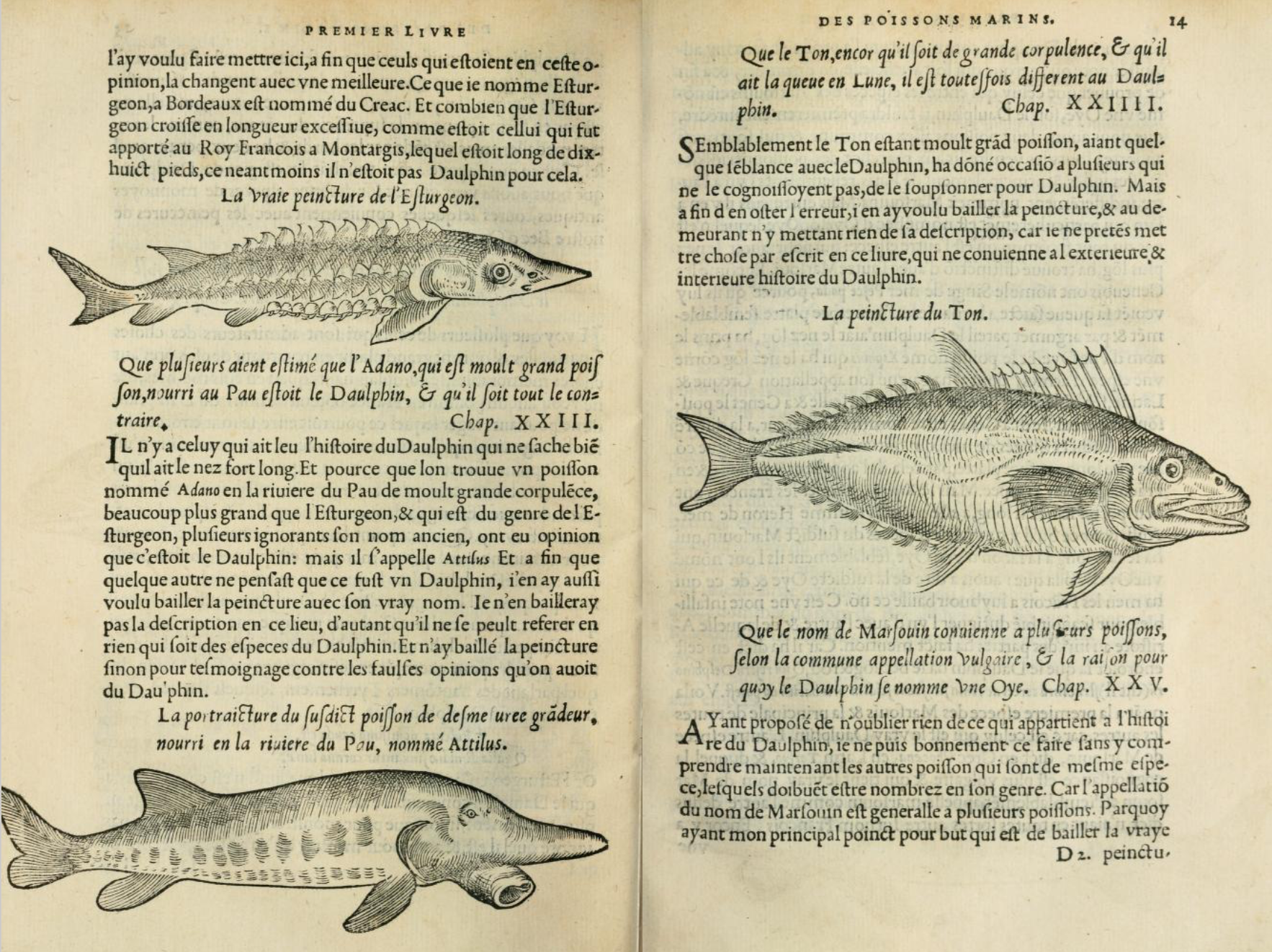 The history of science and medicine represents some of the core subject strengths at the Thomas Fisher Rare Book Library, spanning across some of our largest collections. But where to begin? One great way to become more familiar with the many and varied collections at the Fisher Library is by flipping through our previous exhibition catalogues. Each exhibition at the Fisher Library, dating back to when the library first opened in 1973, has been accompanied by a published catalogue which lists and expands upon the curated items. Exhibitions are very much in the spirit of Science Literacy Week at the Fisher Library, during which we normally host an open house event where science materials are put on display. While the library remains closed, this post will tap into some of that museum-style learning by looking back to one of our earliest exhibitions, "Book Illustration in the Natural Sciences," displayed in February 1974.
Book Illustration in the Natural Sciences: An Exhibition Held February 1974 in the Thomas Fisher Rare Book Library. (Call number: Cap 05623).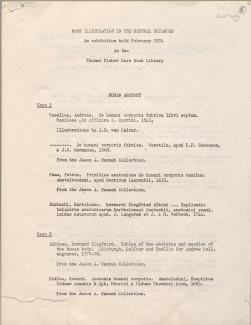 Any exploration of book illustration among the Thomas Fisher Rare Book Library's holdings would be incomplete without spotlighting items from the science and medicine collections. These materials comprise some of the most illustrated volumes in the library.
This 1974 exhibition (click on link for the full five-page catalogue) focused on examples of book illustration across three subject areas in the history of science and medicine: Human anatomy, animals and plants. In fact, the last exhibition case was entirely dedicated to displaying our various editions of Catharine Parr Traill (1802-1899) and Agnes Chamberlin's (1833-1913) Canadian Wild Flowers. Taking a closer look at early exhibition catalogues such as this also offers insight into how the collections at the Fisher Library have grown and developed since the library first opened.
Let's highlight a few of the materials that you would have found on display had you walked into the Fisher Library back in February of 1974:
HUMAN ANATOMY
Albinus, Bernhard Siegfried. Tables of the skeleton and muscles of the human body. Translated from the Latin. Edinburgh: Printed by Balfour & Smellie, for A. Bell, 1777-1778. (Call number: Jah F).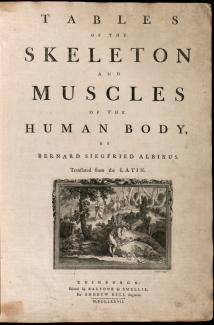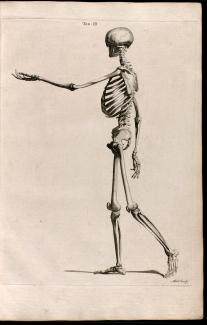 This large volume by Bernhard Siegfried Albinus (1697-1770) is filled with illustrations of the human skeleton and muscular system, engraved by Andrew Bell (1726-1809). Albinus received his M.D. in 1719 after having spent nearly a decade studying under his father. Through his lectures, writings and editing of earlier medical texts, Albinus went on to make significant contributions to anatomy and osteology.
Click here to learn more about the life and work of Bernhard Siegfried Albinus and view all the plates featured in this volume.
ANIMALS
Belon, Pierre. L'histoire naturelle des estranges poissons marins, avec la vraie peincture & description du daulphin, & de plusieurs autres de son espece. Paris: L'Imprimerie de Regnaud Chaudiere, 1551. (Call number: Sci 00185).
In 1551, French zoologist Pierre Belon (1517?-1564) published L'histoire naturelle des estranges poissons marins or, "The Natural History of Strange Marine Fish." The 110-page book includes 24 woodcut illustrations of fish as well as other marine creatures including dolphins, a sea serpent and a hippopotamus. While the term fish is used more broadly here than we are used to today (encompassing all aquatic animals), this work goes down in history as the first printed book to feature illustrations of fish! Belon's work thereby came to be foundational in the field of ichthyology, the zoological branch focused on the study of fish.
The Fisher Library copy of this book is also available to view in its entirety online via the Internet Archive, here.
PLANTS
Woodville, William. Medical botany: containing systematic and general descriptions, with plates, of all the medicinal plants. London: Printed and sold for the author, by James Phillips ... 1790-1793. (Call number: Jah 04282).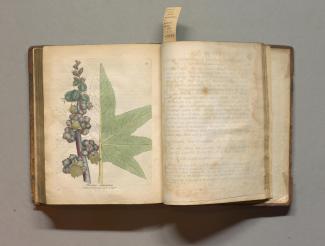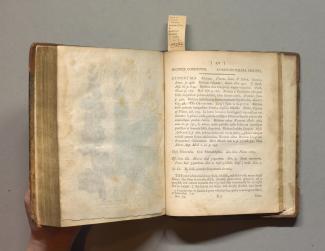 William Woodville (1752-1805) received his M.D. in 1775. He was an advocate for inoculation and had a passion for botany and gardening. Initially published in three volumes, with a fourth volume subsequently issued in 1794, Medical Botany offers a thorough catalogue of medicinal plants, accompanied by approximately 300 detailed illustrations. Nearly all the illustrations were created based on living plants or specimens, by James Sowerby. Woodville's book came to be an important reference work for physicians in the nineteenth century and beyond.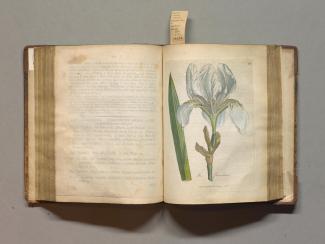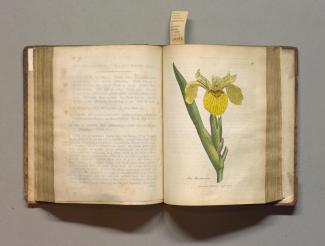 * * *
As demonstrated through the examples above, the scientific book and illustrations are essentially inseparable. The history of illustration in the scientific book is an area of study that continues to be of interest to librarians and scholars to this day. Take for instance Roger Gaskell's ongoing course instructed at the University of Virginia's Rare Book School, "Making the Early Modern Illustrated Scientific Book."
Even decades after an exhibition at the Fisher Library is dismounted, these curated lists can offer valuable insight into the collections, especially during unusual times such as these when the library remains closed. To explore our previous exhibitions (including several others on scientific topics) click here.
- Leora Bromberg, Acquisitions Specialist, Thomas Fisher Rare Book Library
This blog post is part of a series devoted to celebrating Science Literacy Week.