In 2015, the Fisher purchased a large collection of drawings and sketches by Alexander Scott Carter (1881-1968), documenting over eighty projects designed by him from 1920 to 1960, including bookplates that Carter designed for Toronto patrons. Most people have noticed bookplates in volumes owned by libraries or other institutions: they're labels pasted, usually inside a book's upper cover, to indicate ownership. Almost as long as books have been printed, private owners have used these "Ex Libris" labels, but they became more common in the nineteenth century, when publishers began to produce books in ready-made bindings. Before that, people purchased books as sets of printed sheets to be custom-bound, so they could indicate their ownership on the book's cover design. Bookplates are still made for institutions—the Fisher uses them on its holdings—and they continue to be popular among stylish book collectors.
Bookplates are useful to researchers, collectors, and booksellers because they provide evidence of provenance, the history of the individual copy's ownership. In the book business, this can be a way of establishing that a copy has been legitimately purchased, and not stolen. If the book has been owned by an historically important person, or someone who knew the book's author, the copy's provenance can raise its value. For scholars interested in the history of readership, bookplates can provide helpful evidence about the ordinary people who made up the book's audience. And, because ex libris plates like the ones that Alexander Scott Carter designed are printed objects custom-made for book aficionados, they are often beautiful ephemera in their own right.
Although Carter was producing work when the Modernist movement was already well under way, his style bears a distinct connection to the Arts and Crafts movement. This aesthetic affinity appears despite a difference in technique: the Arts and Crafts designs made famous  by William Morris were typically completed using wood engraving, a relief method of printing with a matrix somewhat like a rubber stamp, where the black lines of the design are the parts of the block left in place after the white areas have been carved away. Carter's intaglio designs, on the other hand, were produced on copper plates, when engravers made grooves where the black lines were meant to appear. The difference in production meant that Carter was often drawing "in negative," inking in large areas of black that his engravers would need to rock out of the plates. In this respect, the finished results are often quite impressive.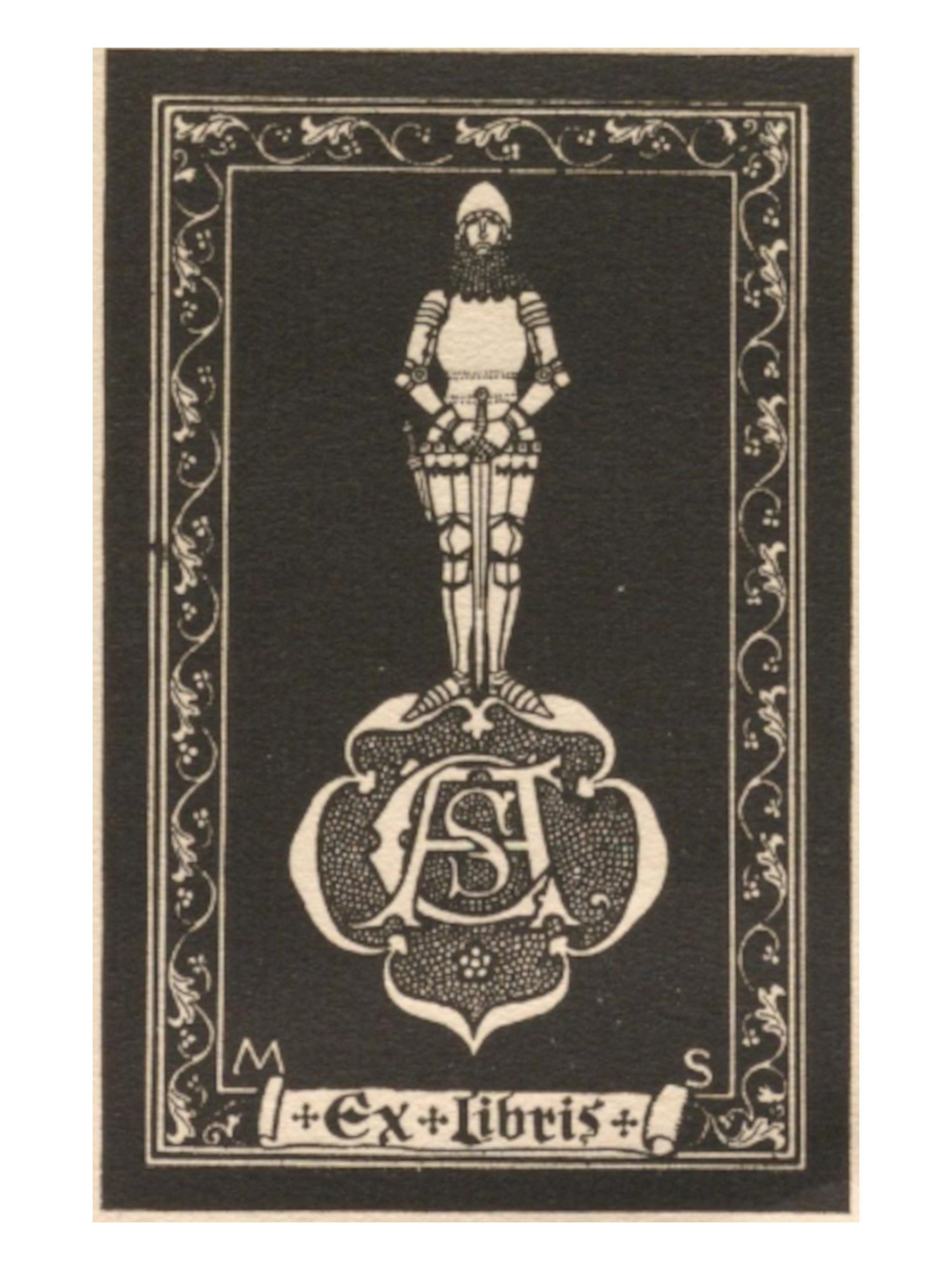 When Alexander Scott Carter emigrated from England to Toronto in 1912, he settled in a prosperous city with a lively community of socialites and intellectuals. Trained as an architect and artist in London, Carter made his reputation around 1920 with a commission from the architectural firm of Sproatt & Rolph to adorn the Great Hall of Hart House at the University of Toronto with the coat of arms of universities throughout the world and a hand-painted inscription from John Milton's Areopagitica (1644). Carter's talent soon drew notice among the leading families of Toronto.  Over the next two decades, he completed works for Lady Eaton, Sir Joseph Flavelle, E.R. Wood, Gerald Larkin, the Hon. Vincent Massey, Sir Edmund Walker, Sir Vincent Meredith, J.P. Bickell, and Sir Frederick Williams-Taylor. A number of these patrons also arranged to have Carter design custom bookplates.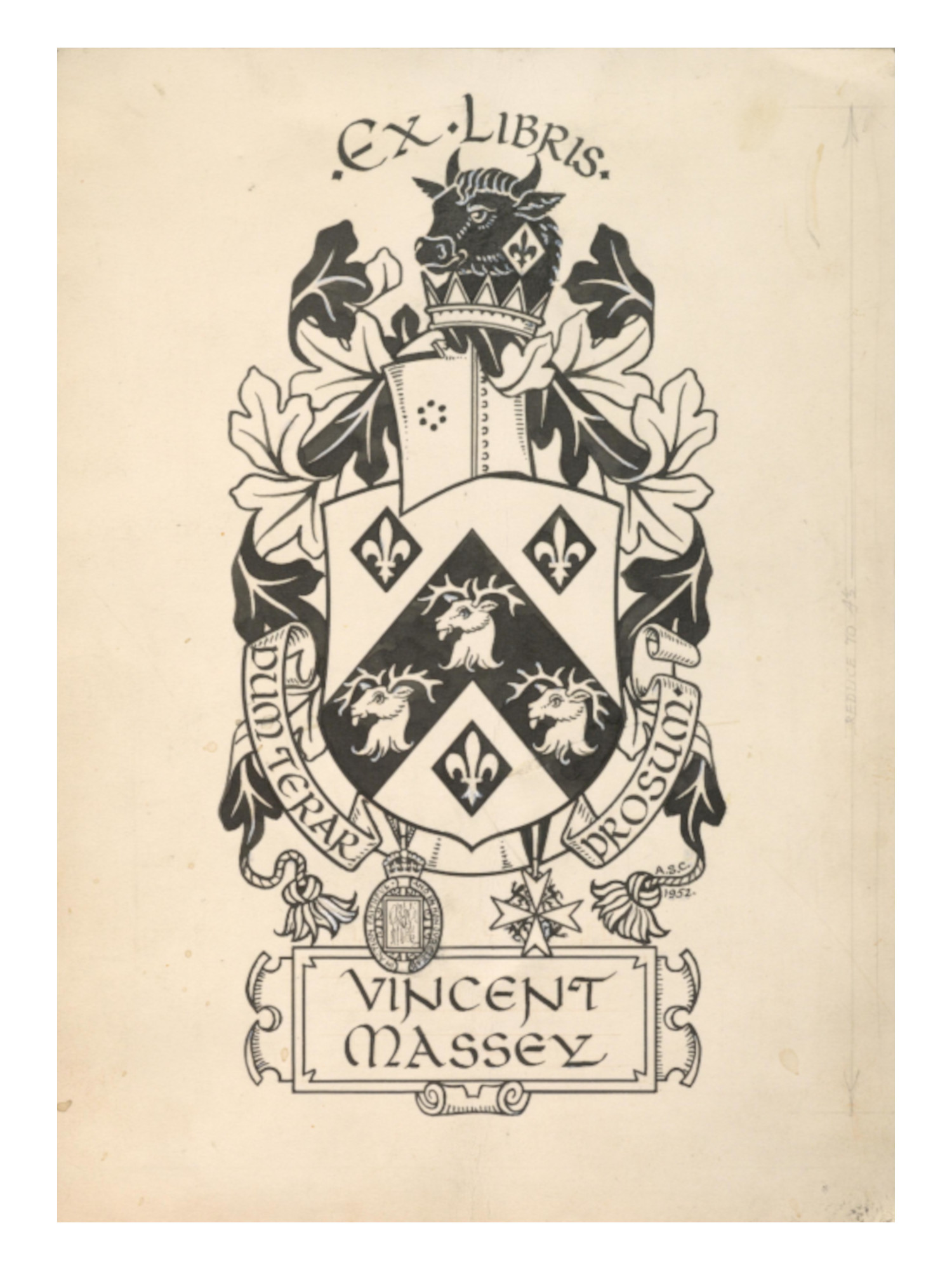 On several occasions, Carter was employed in decorating institutions such as the Art Gallery of Toronto,  the Province of Quebec Association of Architects, Trinity College (University of Toronto), and the Municipality of Metropolitan Toronto, with crests or coats of arms. This experience seems to have made him particularly expert in designing armorial bookplates. In some cases, Carter straightfowardly adopts the crests and mottoes of European families who shared surnames with his Canadian clients. Other clients, such as Vincent Massey or Joseph Wesley Flavelle, had registered coats of arms with the Royal Heraldry Society of Canada. Often, Carter designed original armorial bookplates for clients who had made their fortunes in the New World and didn't have their family histories recorded in books of heraldry, using iconography with wit and tact. For instance, Carter created an original coat of arms for dermatologist and U of T professor Hamnett Dixon which incorporated the university's oak leaves, the physician's magnifying glass and a motto "Quod Dixi Dixi" (I said what I said) that puns on the client's surname.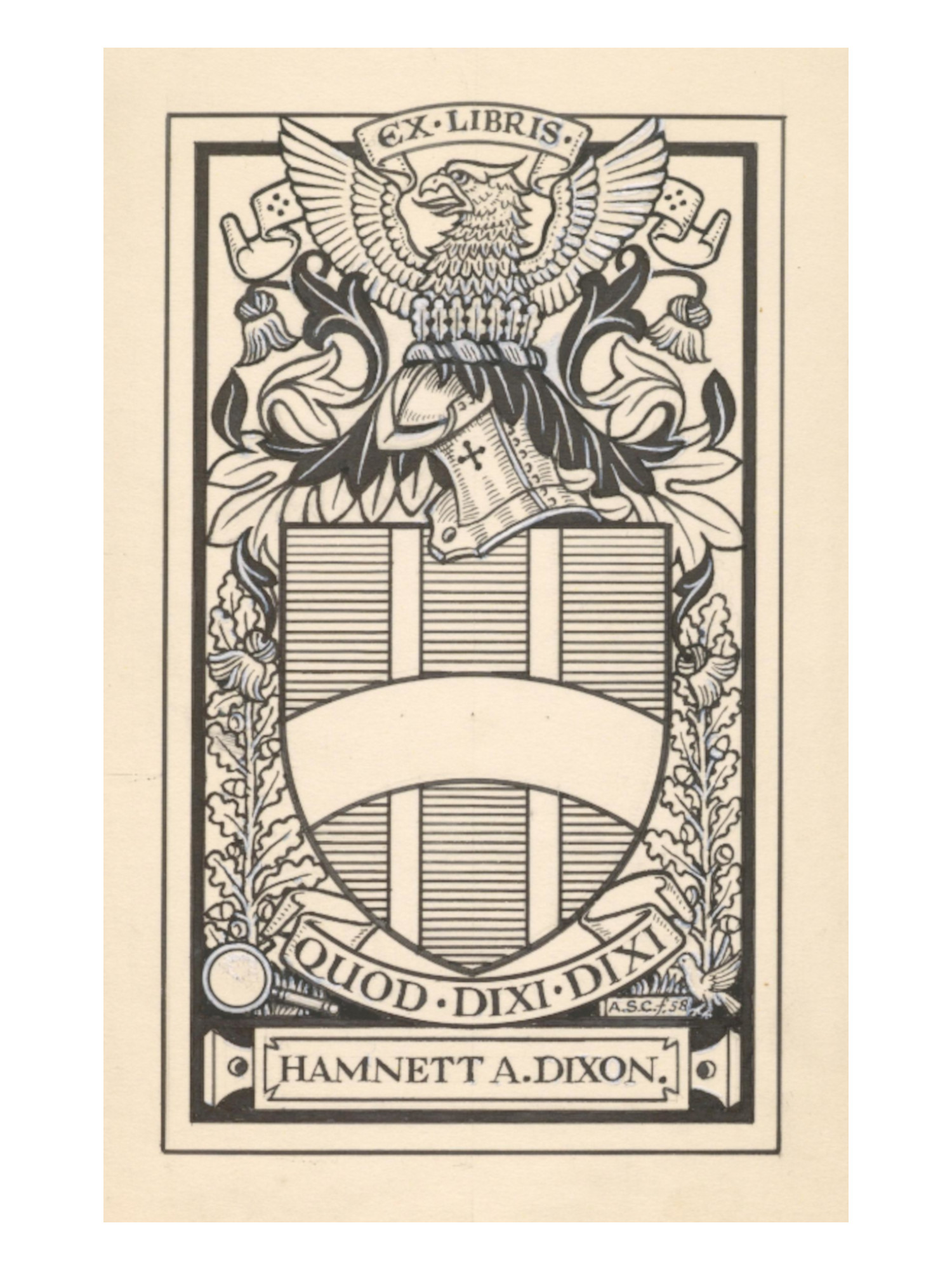 Carter also created original designs for numerous pictorial bookplates. These carefully planned illustrations bear imagery which reflect the pastimes, professions, and pretensions of Carter's wealthy clients. Carter's patrons were prominent in a number of different fields, and the bookplates provide glimpses of some interesting personalities, such as the legendary football coach, Henry Crawford Griffith; the apparently musical and fanciful socialite, Sylvia Dilworth; or Dr. Albert Hill Rolph, a respected radiologist at Toronto Sick Children's Hospital who wrote poetry, played the violin,  developed several new iris cultivars, and was an avid mountaineer. In addition to personal touches that reflect his clients' tastes, Carter's pictorial bookplates evince an increasing interest in Canadian wildlife and topography over the course of his career. For example, Carter's 1957 design for geologist W. P. Houston exudes great charm, with its tent and surveyor's tripod adjacent to pine trees and woodland creatures, and bordered by the trillium, Ontario's provincial flower, as well as a daisy and a rose.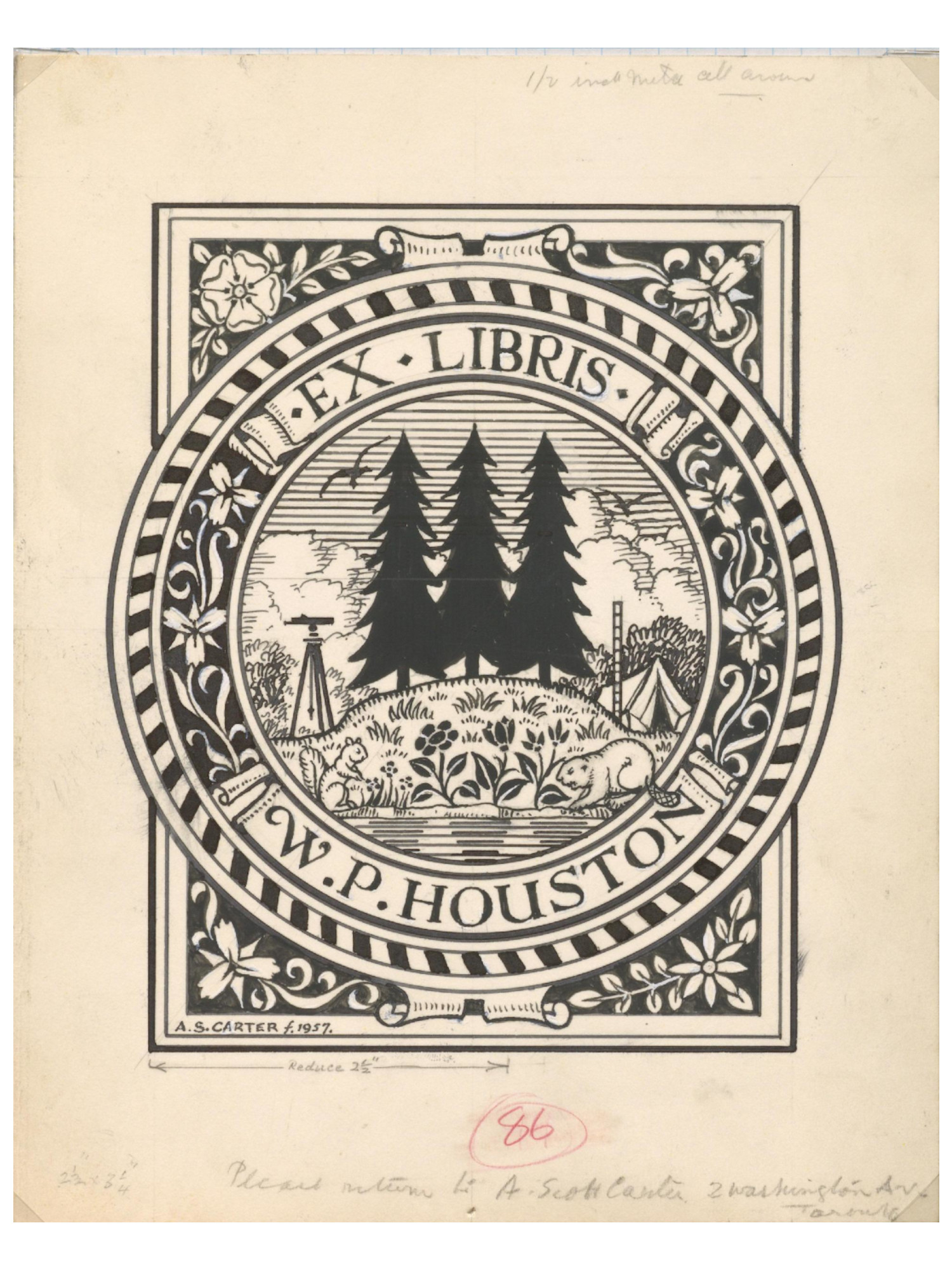 A complete Flickr album of images from the Fisher's collection of Alexander Scott Carter bookplates is  available online.  The collection has great appeal in its own right and will probably be of special interest to researchers curious about the history of Toronto. Many of Carter's patrons left a lasting legacy to the city, and several names will be particularly familiar to members of the University of Toronto community, where Flavelle's former residence is a cornerstone of the Faculty of Law, and Massey College is home to the Book History and Print Culture program. The collection includes finished bookplates as well as pencil sketches, ink drawings, and proof copies.
- Holly Forsythe Paul, Hilary Nicholls Fellow, Thomas Fisher Rare Book Library