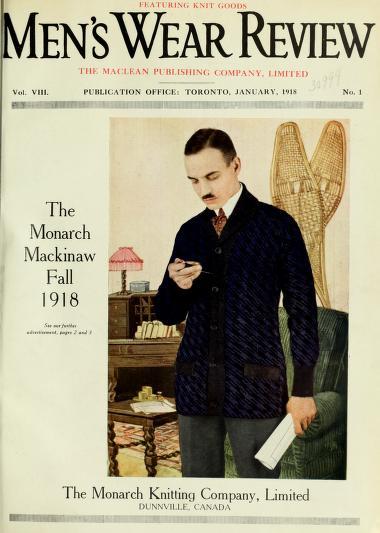 Every week we dive into our holdings on the Internet Archive, which are free to access and great to explore. This week, Samantha will be taking a look at the fascinating history of menswear in Canada.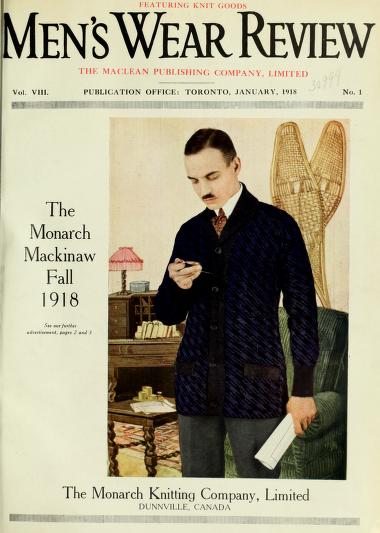 With autumn approaching and a new school year beginning (albeit online), many people will be hitting stores to refresh their wardrobes with new back-to-school staples. Back in 1918, fashion aficionados may have turned to Men's Wear Review at this time of year, a monthly magazine all about the hottest trends in men's clothing. In fact, this trade magazine gave fashion retailers around the country the opportunity to discuss upcoming trends, and gave wholesalers the opportunity to advertise to retailers. In these pages the Canadian men's clothing sector could come together to build relationships and businesses. The volume featured today, number 8, includes all twelve issues published in 1918. 
As magazines often do, this publication gives us an interesting insight into a major aspect of daily life in Canada: the clothes Canadians wear. On page 62, we can learn about the fur shortage which was set to rock the fashion industry in 1918. Additionally, page 106 contains a certain Mr. Day's insistence that trouser cuffs were not about to go out of style (contrary to popular belief). What's more, hat prices in 1918 were expected to go through the roof (p. 131).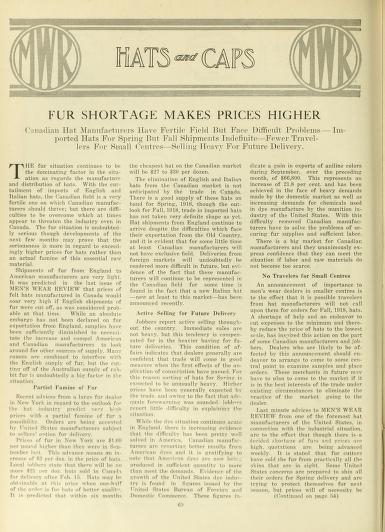 While it is always exciting to examine remarkable and unique objects from the past (such as the first edition of Anne of Green Gables we examined a few weeks ago), there is something particularly interesting about taking time to examine the everyday lives of eld. We can learn a great deal about fashion, values, and the economic situation of a period by learning about the clothing the people living at the time wore. This falls under the field of material history, which is to say the history of material objects. This approach to history explores events and culture through the lens of the objects used and created by people. Using these analyses, we can better understand the societies that led to the development of these items and the competing social and cultural changes which informed their creation.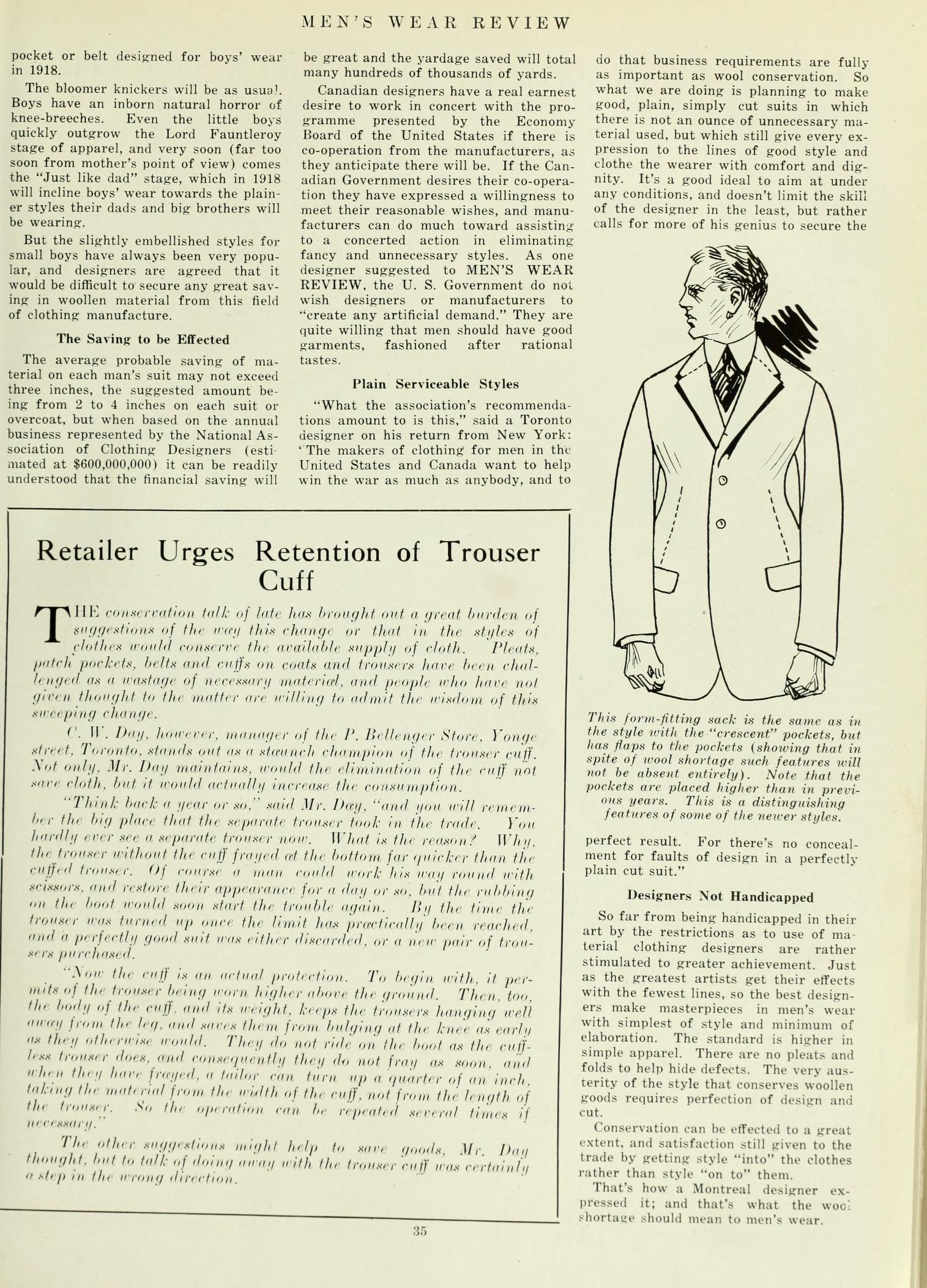 This writer in particular has a soft spot for advertisements. Ads simultaneously tell us a great deal about their audiences' lived experiences and their aspirations. The below advertisement (p. 148) tells us that not only was the classic four-in-hand knot popular for ties and that elaborate patterns were in vogue, but also that it was desirable to own ties for specific occasions and holidays (in this case, Easter). From this we can glean a fair amount about style and consumption in Canada in 1918.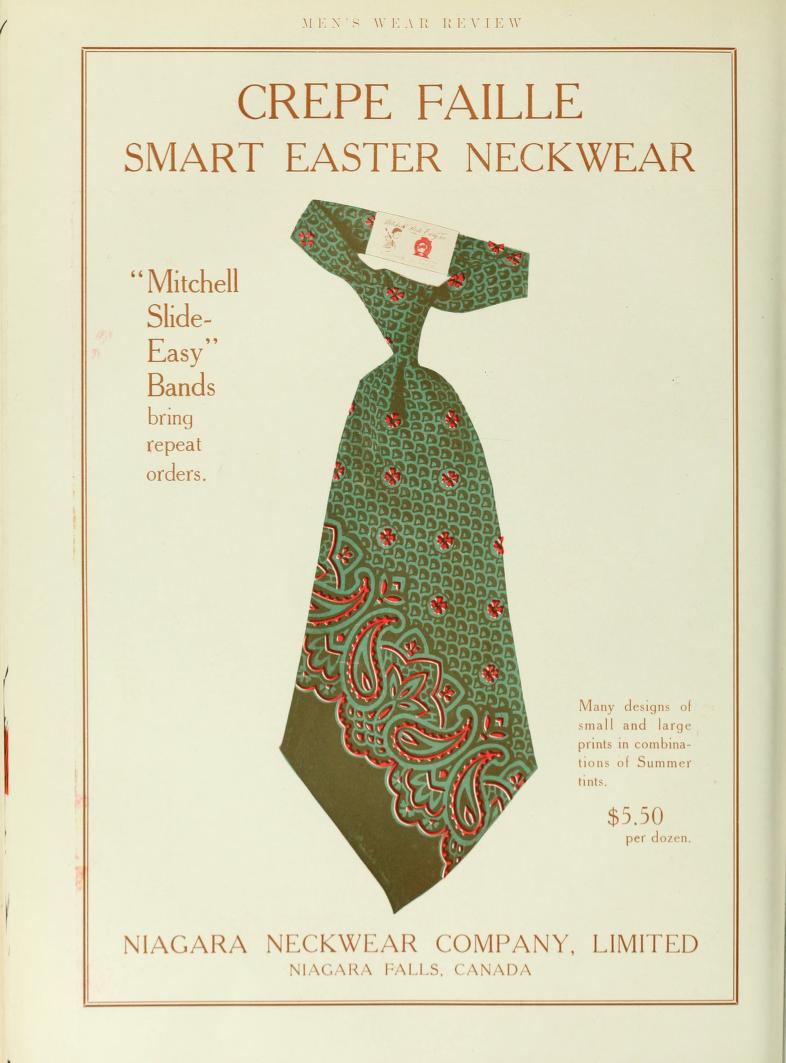 Shakespeare once wrote that "apparel oft proclaims the man." While we may now disagree with the Bard of Avon about how accurate a judgment we can make about people  based on their clothing, we can still learn a great deal about a culture based on its clothing. Flipping through a periodical like the Men's Wear Review can teach us a great deal about Canada in the early twentieth century, and we hope you enjoyed taking this quick dip into the history of men's clothing in Canada with us. Take some time to look through our Internet Archive holdings and see what else you can learn about the Canada of yesteryear. Let us know what piques your interest! Perhaps it can be the subject of a future IA Book of the Week. 
-Samantha Summers, TALInt Student