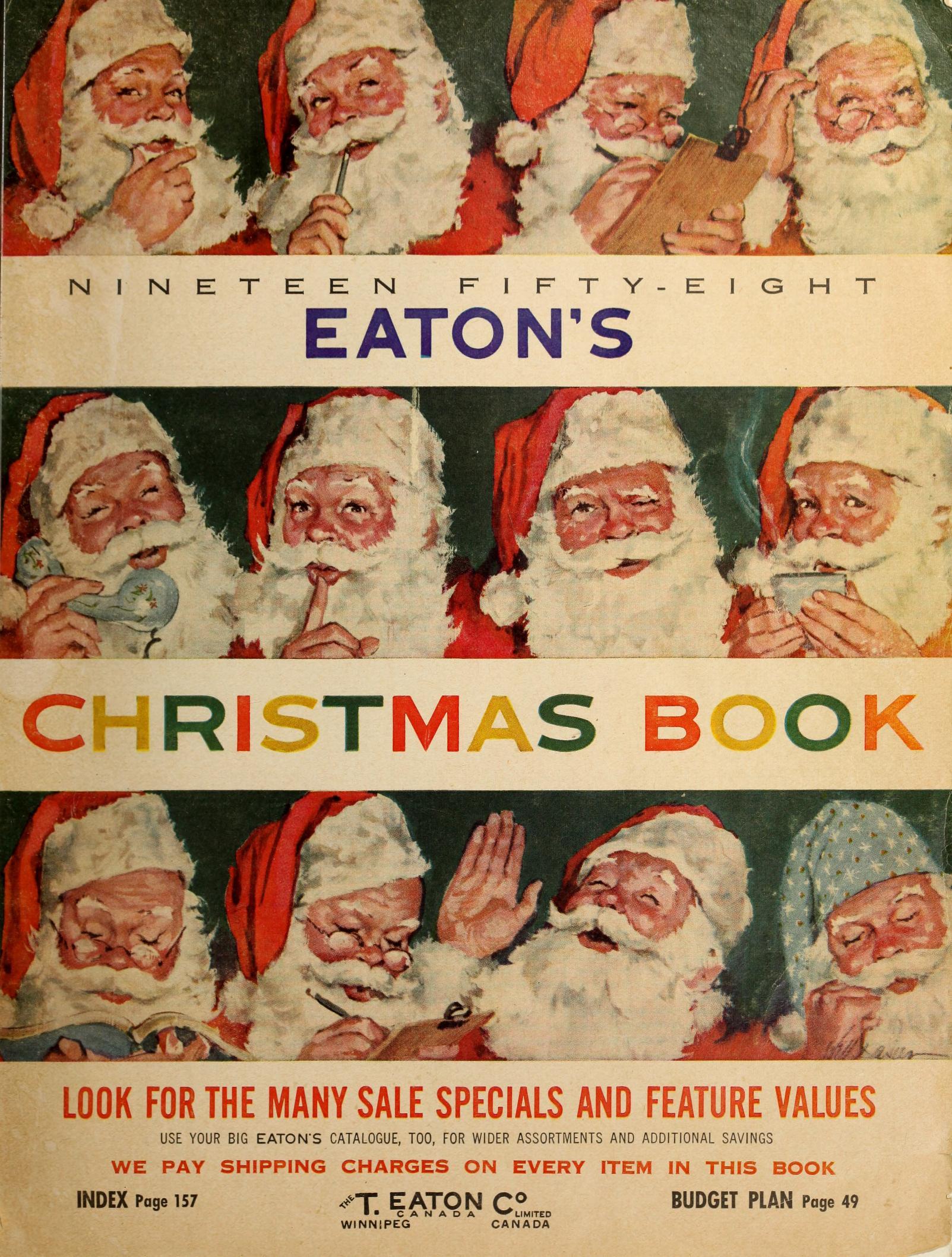 Every week, the Fisher Library highlights an item from one of its many digitized collections held on the Internet Archive. This week, Rachael takes a look into an Eaton's Christmas catalogue to help kick off the holiday season.
For some the holidays begin with the first snowfall of December and for others it is when the calendar turns over to the start of November. One thing that most can agree on though is that thumbing through a holiday gift guide, no matter one's age, can get the holiday excitement flowing. For decades, this gift guide came from Eaton's. This week's "Book of the Week" is an Eaton's Christmas Book Catalogue from 1958. Eaton's catalogues were published frequently and during many seasons throughout the year. There was often a catalogue for fall, fall and winter, and one for spring and summer. Although Eaton's produced numerous catalogues throughout the year, the Christmas Book is what everyone was waiting for. The T. Eaton Company was founded in 1869 and closed its doors in 1999. It was once Canada's largest department store chain.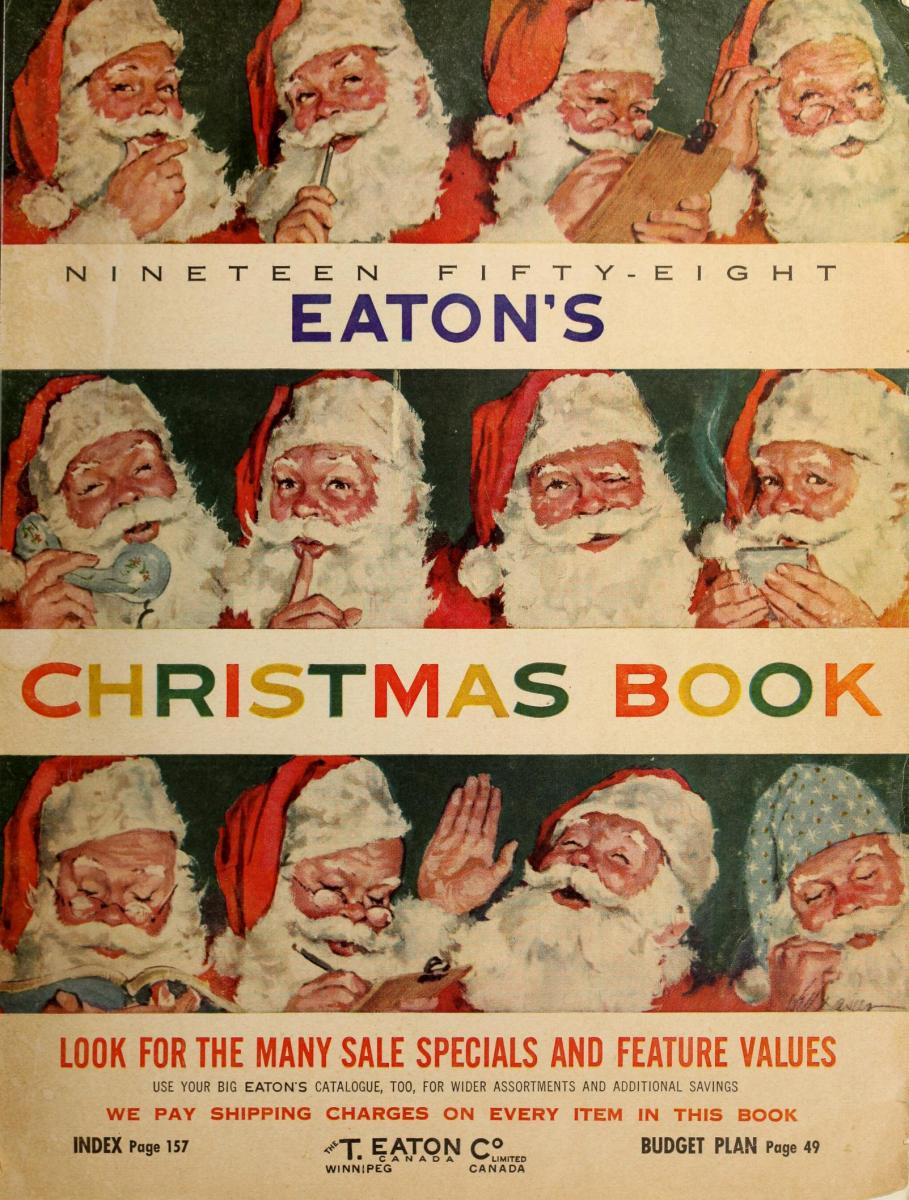 The 1958 Eaton's Christmas Book is 212 pages of gifts and toys for people of all ages. It does; however, strongly appeal to children. The cover is colourful and features Santa Claus in a variety of poses. Written on the cover of the book shoppers are encouraged to look for sale specials and feature values and to also use their "big Eaton's Catalogue" for even more savings. Readers may also be interested to know that shipping was free on all items in the catalogue. This is something that would surely come in handy and be well-appreciated by consumers, as anyone who is keen on online shopping can attest! The catalogue jumps right into a selection of gifts after the cover page. The book begins with gifts for the home which fill the first two pages. There is an electric frying pan, a ten-speed kitchen mixer, a bathroom scale, and many other modern home wonders. There is also a rather interesting item at the bottom of the page, a "modern gossip bench." The item appears to be a simple chair with a dual shelf bench/table attached to it that features a home phone and phone book. The cost of the product is extra if you also wanted a floor-length lamp to come with it. The adjacent page features a few more expensive hobby items such as a portable typewriter for $64.50, a box camera kit for $12.95, and the most expensive is a tape recorder for $199.50.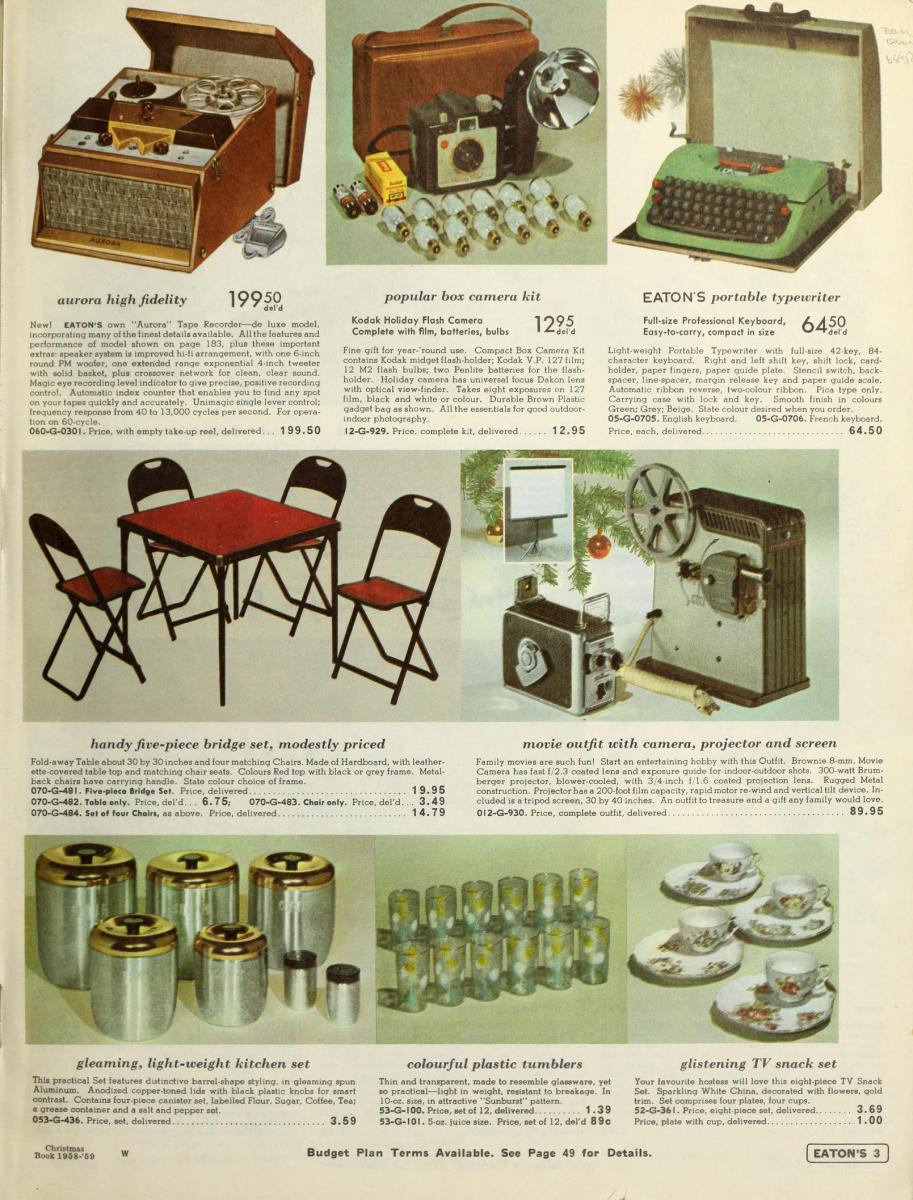 The largest portion of the Eaton's Christmas Book is devoted to toys. There is an enormous selection of dolls and accessories, toy appliances such as sewing machines and kitchen appliances (also referred to as "realistic housekeeping toys.") Much of the toys are unsurprisingly highly gendered with dolls and play kitchens for girls and tricycles and model trains for boys. Based on images alone, there are far more "toys for boys" featured in the catalogue than ones for girls.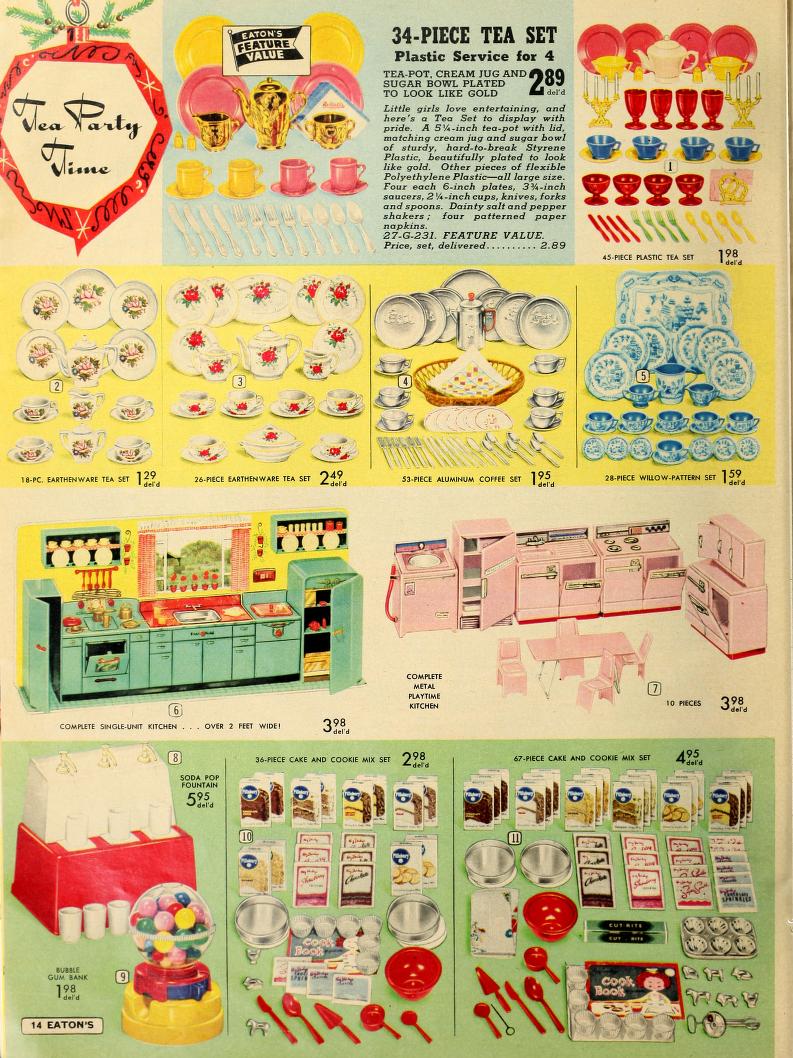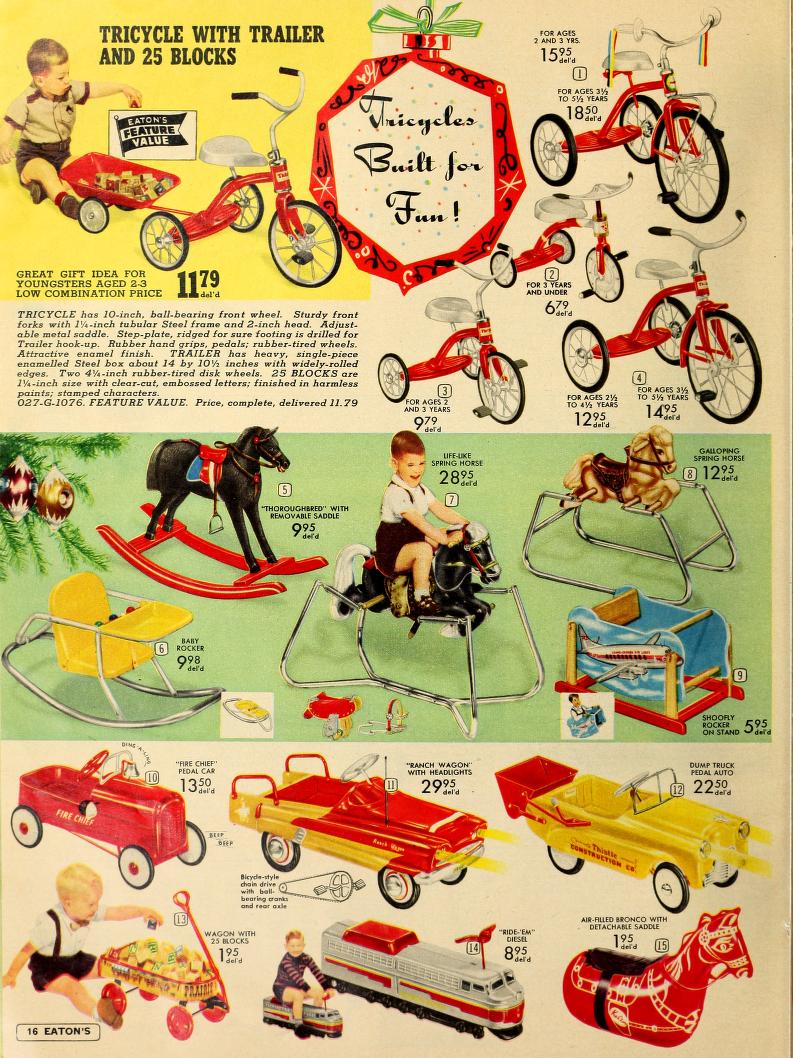 Only a short time before, such a lavish holiday season would not have been possible. The Great Depression of the 1930s and World War Two economy made having a toy and gift filled Christmas difficult. After the war ended, a consumer culture exploded in the United States and Canada as wartime production had pulled these countries out of economic depression. Families found themselves with disposable income again and were able to spend on modern appliances and luxury goods such as vehicles and home entertainment. Consumerism became a way of life and these items were marketed as part of a modern way of living.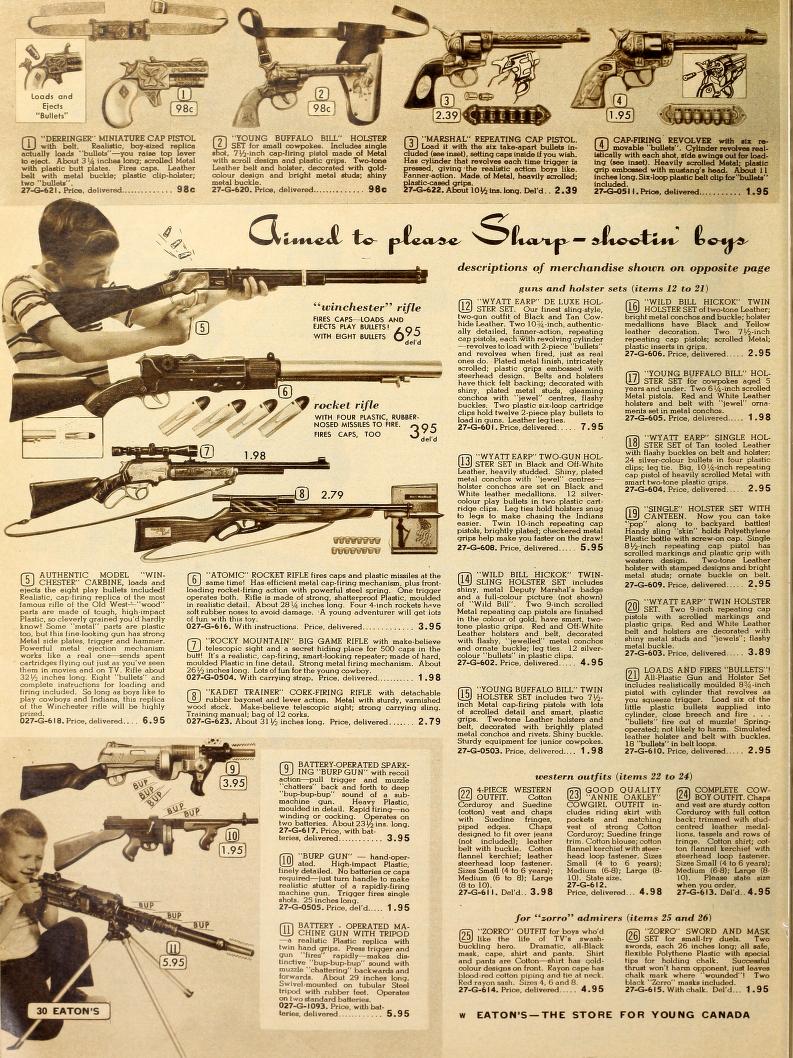 Having brand new modern appliances and the latest toys was certainly important to consumers in the 1950s and beyond, but surely so was being together as a family after decades of economic uncertainty and war. Overall, the holidays are about family and loved ones, and while this season may be a bit different from the usual, but the spirit of the holidays remains the same.
-Rachael Fraser, TAlint student