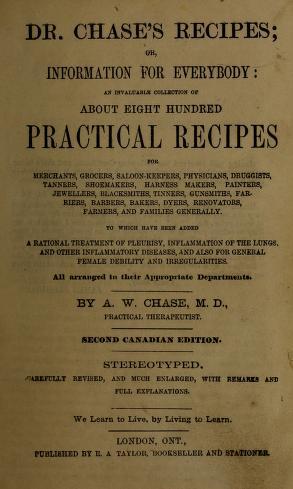 Every week, the Fisher library highlights an item from one of its many collections available on the Internet Archive. This week, Rachael takes a look at an interesting book from our Canadiana Collection.
This week, as Toronto and surrounding areas enter a second lockdown you may find yourself without certain pantry or household items and not wanting to venture out to pick them up at the store. With that in mind, having a readthrough of Dr. Chase's Recipes could inspire you with the confidence to make many of these products at home. The full title of this book is "Dr. Chase's recipes, or information for everybody: an invaluable collection of about eight hundred practical recipes for merchants, grocers…and families generally; to which have been added rational treatment of pleurisy, inflammation of the lungs, and other inflammatory diseases, and also for general female debility and irregularities: all arranged in their appropriate departments." The title is so long that it covers the entire front page of the book. It was written by Doctor Alvin Wood Chase, described on the cover as a "practical therapeutist." The resourceful guidebook was published in 1873 in London, Ontario. The Fisher Library has a digitized copy of the second Canadian edition, "Carefully revised, and much enlarged, with remarks and full explanations."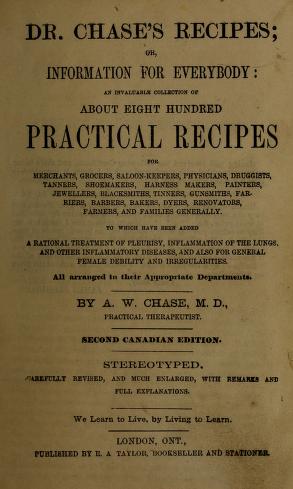 Dr. Chase's "Practical Recipes" begins with a few advertisements before the title of the book is revealed. Mostly, these ads are for other books, a London stationary store, and a book-binding service. The book then commences with a preface for each edition of the book published so far, of which there are ten editions. Each section describes the changes made to the subsequent edition. Several updates were made to the second edition from the first one including sections of recipes and information relevant to farmers, grocers, and pharmacists. He also explains that the price of the book will now have to be increased because so much new information has been included since the first edition.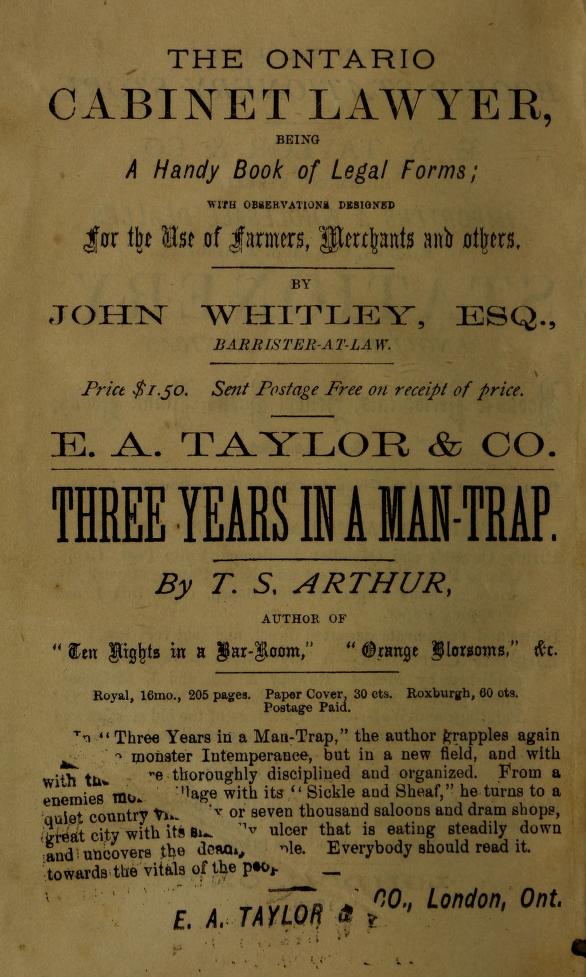 Following the preface, an index is included which will certainly come in handy when trying to navigate this 385-page book. The first section is the "merchant's and grocer's department," followed by saloon (which is mostly different beverages, bitters, and snacks), the medical department, painters' department, tinners' department and other skilled trades, a section for barbers and toiletries, and of course actual edible recipes.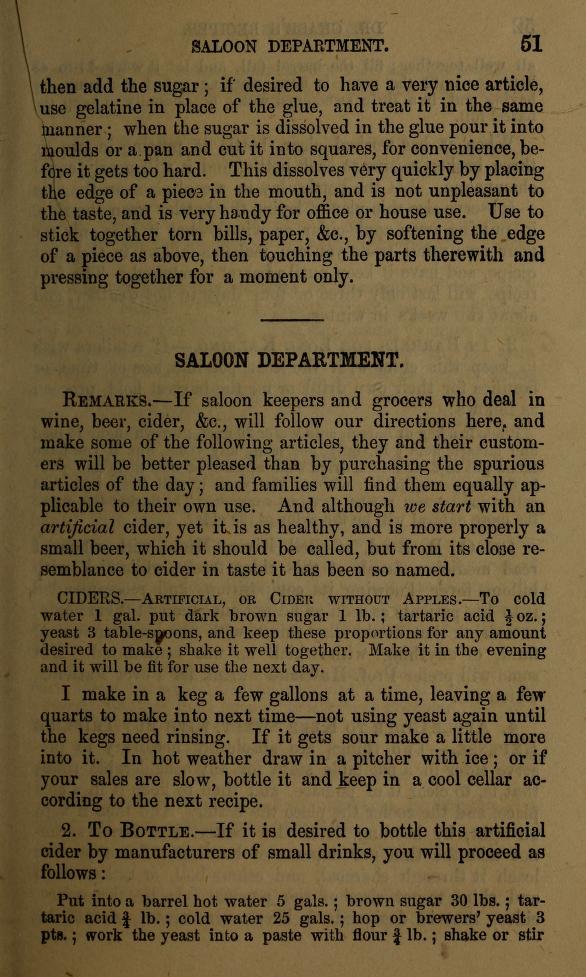 Readers may have much interest in the "Saloon Department" section of the book, which begins on page 51. The chapter begins with a few remarks: "If saloon keepers and grocers who deal in wine, beer, cider, &c., will follow our directions here, and make some of the following articles, they and their customers will be better pleased than by purchasing the spurious articles of the day; and families will find them equally applicable to their own use." There are recipes here to make your own alcoholic cider, flavoured syrups, different kinds of beer such as ginger or lemon beer, ale, and something interestingly called "Sham-Champagne – A Purely Temperance Drink." The recipe calls for 1 oz of tartaric acid, one good-size lemon, 1 oz of ginger root, 1 ½ pounds of sugar, 2 ½ gallons of water, and 1 gill of yeast. There is also a warning included with this recipe: "Be sure and not drink over three or four bottles at one time." With almost 2 pounds of sugar in the recipe, this is good advice if you are not planning on seeing your dentist anytime soon. The inclusion of a "temperance" drink in this book is rather interesting. The Temperance Movement, which was gaining popularity at this time was a movement by women who desired to ban the sale and consumption of alcohol. It was also later tied in with the suffrage movement in Canada.
Dr. Chase's recipes provide readers with a fascinating glimpse at 19th century "making-do." The concept of making one's own vinegar, alcohol, ink, etc. in order to save money, or because the item cannot be found was common during this time and into the 20th century with the onset of both world wars. For now though, readers can take these recipes with a grain of salt…and a few pounds of sugar.