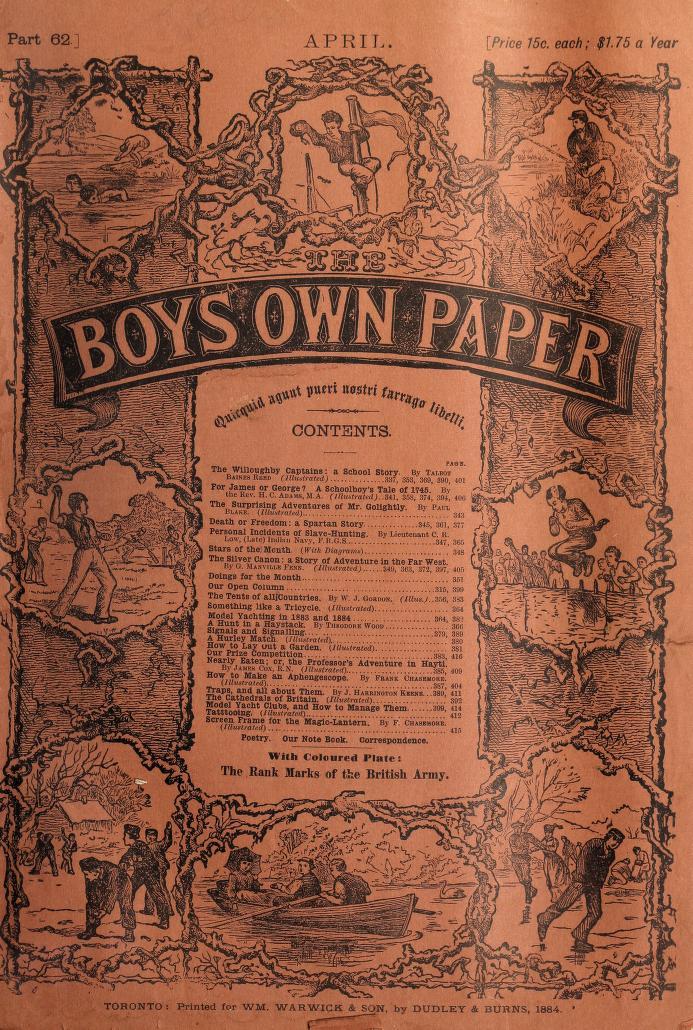 Each week, the Fisher Library highlights an item from one of its many digitized collections available to anyone for free on the Internet Archive. This week, Rachael takes a look at a popular publication in our Canadiana Collection.
In 1878, the Religious Tract Society of London was looking for a new way to encourage more young folks to start reading while instilling them with Christian morals. In 1879, they began producing "The Boy's Own Paper," a weekly publication containing adventure stories, instructions on how to make puzzles, notes on sports and nature, essay competitions, and other things that would interest young men. "The Boy's Own Paper" was a British publication; however, the Canadian edition is the focus of this week's blog.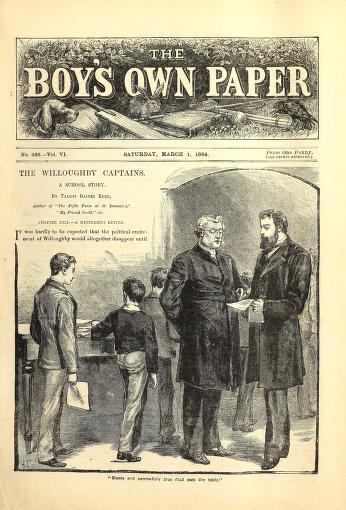 The Canadian edition of the "Boy's Own Paper" was basically identical to that of its English counterpart except for a different publication date and ads for Toronto businesses. This particular issue was published in 1881 by Dudley & Burns. The paper begins following a page of advertisements with a "school story" about "The Willoughby Captains." Another story follows titled, "For James or George? A Schoolboy's Tale of 1745." The story is written by Rev. H. C. Adams who, according to the subtitle also wrote "Tales of Christian School." Judging solely by the author of this tale one can assume there will be strong influences of Christianity. Stories in the "Boy's Own Paper" are not too long, usually three to four pages and written in columns like in a newspaper. This design is likely to make it so its audience felt as though they were reading a newspaper specifically for them. The book also includes songs, poems, illustrations, advice columns, and more.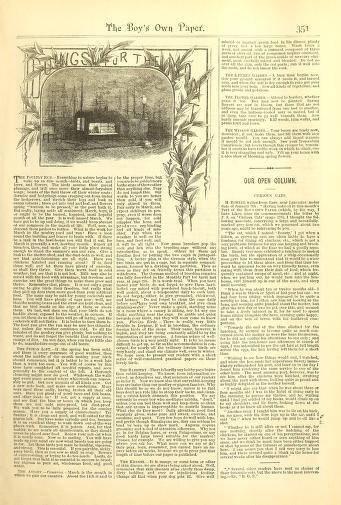 The Christian overtones mentioned previously are drastically clear in a section entitled, "Our Note Book: Public School-Life and Christianity." In this section, the author (another reverend) describes that every one of us has "Christ in our hearts," just some people feel more swayed by this than others. The Reverend implores to young readers who may be fearful that their circle of friends is irreligious to not lose hope and to not let themselves be swayed by an inconsiderate life. He reiterates that everyone has within them the light of God, even those who have seemingly been called away.
In addition to this, a section near the back of the paper warns young men of the undesirable practice of tattooing. A gruesome story follows describing the harrowing tale of two sailors who were forcefully tattooed by those of the Maori Tribe in New Zealand. The author of this section equates tattoos with barbarism and for those of uncivilized nations. This type of xenophobia was common in the "Boy's Own Paper" as it echoed 19th century (and older) ideals of British colonialism.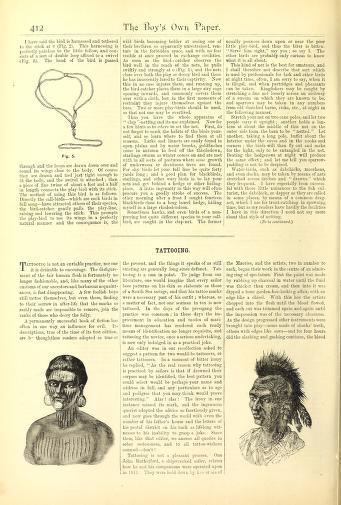 - Rachael Fraser, TAlint student