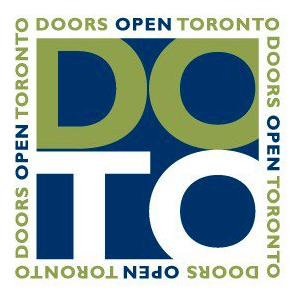 Typically, the last week of May is when the Fisher's staff is gearing up for the library's largest annual outreach endeavour: Doors Open Toronto. Due to the continuing COVID-19 restrictions, however, Doors Open is cancelled for the second year running. This is a big disappointment as the day is one of the highlights on our calendar. We didn't want another year to go by without honouring the event in some fashion, so this week Through the Revolving Door will feature posts honouring our building. 
We begin with a personal history of Doors Open.
*    *
My first visit to Fisher was not as a researcher or a student or an employee. Rather, my first foray through the library's revolving door, in the spring of 2003, was as a tourist. A tourist in my own city, no less. It was the second stop on a sunny and warm Saturday spring day, as part of Doors Open Toronto, the annual event held over the last weekend in May when over 100 Toronto buildings deemed architecturally, historically and culturally significant open their doors to visitors. The Fisher has been a participant every year since the first iteration of Doors Open, in 2000, and over the last decade it has grown to be, by far, the event that has attracted the most visitors to the library in a single day.
My visit in 2003 was somewhat purposeful: I had recently been accepted into the university's Faculty of Information (now iSchool), specializing in the archival stream. To get "into the spirit" and ready myself for my return to school – this was going to be a career change for me – I suggested to my-then partner that we do a library and archives double bill: the City of Toronto Archives on Spadina, followed by a walk south to the Fisher. At the time, Doors Open still felt like a modest event: aside from normally closed-to-the-public buildings such as the Don Jail and the R.C. Harris Water Treatment Plant, most venues had manageable crowds. I certainly don't recall having to fight through too many folks to get a good view through the window of the City Archives storage area.
As for Fisher, there were only a handful of visitors when we walked into the main mezzanine area, and only one staffer: Anne Dondertman, who at the time was head of the Rare Books and Special Collections department (she eventually became the Director of the Fisher) and gamely answered questions she had surely been asked countless times: "How many books does the library hold?" "What's your most valuable book?" "What's the oldest book?" We sat inside the building for probably close to 20 minutes, just to take in the beautiful space. As we were leaving, I said to my companion, "Wouldn't it be amazing to work here one day?"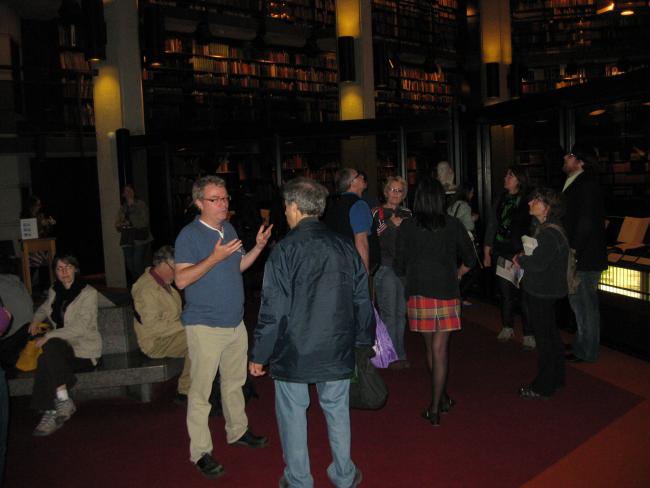 Fast forward two years, May 2005, and where do I find myself on the last Saturday of the month but inside the Fisher, again for Doors Open, but this time helping staff the event. I had recently completed my graduate degree and had landed a summer contract job at the library. When Anne was seeking volunteers to help out with the event, I was super keen (although still a little green about most of our holdings). Since then, I have worked every Doors Open (save one, when I was on a research leave) for the Fisher. In that time, I've seen the number of visitors grow exponentially – it's not uncommon for us to host upwards of 3,000 people in that single day. About ten years ago, we decided to expand our offerings beyond the main exhibition area by opening up our east reading room on the main floor to display materials, with staff curating items to correspond with an annual Doors Open theme. This has provided visitors an opportunity to glimpse at some of the treasures held within the library.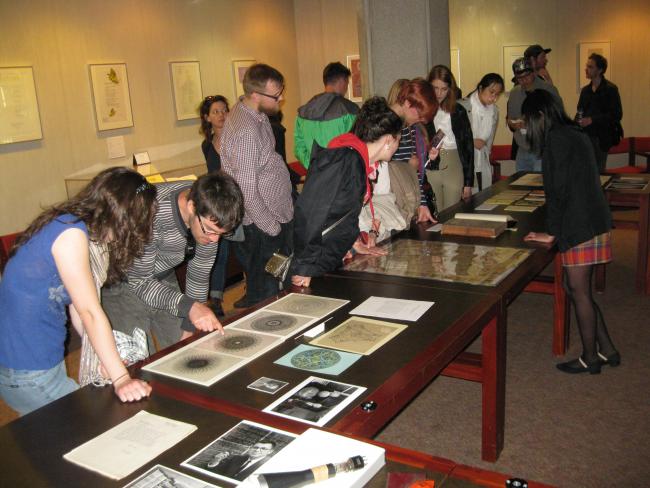 While Doors Open is always a long and exhausting day, it's one that all of the Fisher staff enjoy working. It never gets old for us to see the look on first-time visitors' faces when they enter into our space, gazing at the mezzanine floors of books above their heads. We never tire of the same questions about the size of the collections, or when we get asked what our favourite item is. It's not surprising to hear visitors say, "You know, I've walked past this building hundreds of times, but have never been inside." And that includes many former UofT students.
So while unfortunately we will again not be able to open our doors to visitors for Doors Open, we hope by sharing stories with you this week about our building it will serve as something of a bookmark for next year, when we will hopefully be participating and welcoming visitors back into our beautiful space.
- John Shoesmith, Outreach Librarian