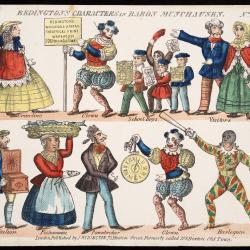 The eternal desire to see stories come to life has led to great creativity throughout history. An increase in theatre-going and interest in theatrical souvenirs during the Regency period sparked the beginning of the toy theatre, a creative hobby that saw young people colouring and cutting out printed sheets of characters from popular plays, and performing on miniature theatres for family and friends at home.
This genre forms part of a continuum of printed works and optical toys that try to bring stories to life, drawing places and characters off the stage and off the page and creating a fanciful world of colour and motion.
This exhibition is curated by the Fisher Library's Liz Ridolfo.
There is a free audio guide narrated by the curator available. Click on this link to download it prior to your visit.
Can't make it to Toronto or missed the exhibition? A digital version of the exhibition is available on our Omeka page