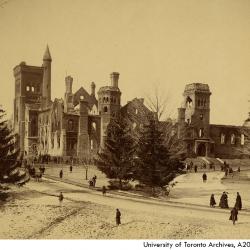 In 2016, the University College Archival Collection was transferred to the University of Toronto Archives and Records Management Services (UTARMS).
Serving as the official repository for University records of permanent value and the private records of individuals and organizations associated with the University, UTARMS is fortunate to now house this important collection of material documenting the early history of University College (UC) – the founding member of UofT's collegiate system. 
The University College Archival Collection includes records documenting UC's early administrative history, the personal records of prominent faculty and staff, a large collection of records on the University College fire of 1890, many publications from the College's student body, and a number of records documenting student life. The Collection also contains a number of artifacts which relate directly to the recorded material and serve to liven this rich collection.
This display includes photographs, textual records, and artifacts which highlight the range of material represented in the Collection. From William Lyon Mackenzie King's textbook and the personal records of Barker Fairley and John McCaul, to relics plucked from the rubble after the College fire, and ledgers documenting UC residence disciplinary actions, UTARMS invites researchers to come and make use of this significant historical resource.