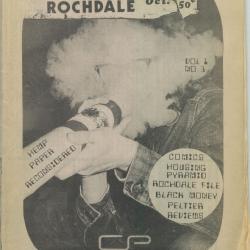 2018 marks the 50th anniversary of the opening of Rochdale College. Rochdale College was first established in 1964 as a solution to the student housing problem at the University of Toronto. It became an experiment in student-run alternative education and community living when Campus Co-Op's Howard Adelman discovered that the $175,000 annual property tax could be avoided if the building had a functioning educational system.
In 1968 the building opened as a free university, where students and instructors could live together and share knowledge. Rochdale was the largest co-op residence in North America, occupying an 18-storey student residence at 341 Bloor Street West (at the corner of Bloor and Huron Street). Rochdale College never used traditional professors or structured classes; the goal was free expression and a rejection of traditional education models.
The project ultimately failed when it could not cover its financial obligations and neighbours complained that it had become a haven for drugs and crime. It was closed in 1975. Currently the building exists as the Senator David A. Croll Apartments, with little to account for its storied origins. The only surviving nod to its past is "The Unknown Student," a sculpture of a cross-legged figure hugging its knees to its chest. Some notable Rochdale participants were involved with various cultural institutions in Toronto that still exist today, such as Coach House Press, Theatre Passe Muraille, The Toronto Free Dance Theatre, the Spaced-Out Library (now the Merril Collection of the Toronto Public Library) and House of Anansi Press.
This month's collection highlights exhibition features a selection of material from our Rochdale College archival collection.