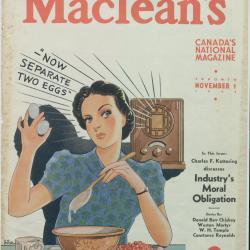 Mixed Messages: Making and Shaping Culinary Culture in Canada will display a tasty arrangement of rare cookbooks, periodicals (magazines), manuscripts and culinary objects from the 1820s to the 1960s. This exhibition will examine how the culinary culture of Toronto and surrounding areas was made and shaped by those who participated in or were excluded from the making and using of culinary materials. On display will be many scarce items which are part of our collections due to the generous donations of Mary Williamson. Objects on display include a copy of the Frugal Housewife's Manual, the first cookbook written and published in Canada, posters advertising the beloved Canadian Cook Book, and an English curry bottle from the early 1900s (with curry still inside!).
Curators:
Nathalie Cooke, Professor and Associate Dean (Library Rare and Special Collections), McGill University.
Irina D. Mihalache, Assistant Professor, Museum Studies, Faculty of Information
Elizabeth Ridolfo, Special Collections Projects Librarian, Thomas Fisher Rare Book Library
Curatorial Assistants, MacLean Hunter Gallery: Cassandra Curtis & Sadie MacDonald, Master of Museum Studies Candidates
A self-guided audio tour of the exhibition narrated by the curators is available on both SoundCloud and on iTunes.
In July, Liz Ridolfo and Irina Mihalache were featured on CBC Toronto's flagship morning program, Metro Morning. They provided listeners a quick tour through the exhibition, along with pointing out some highlights. The segment is available online by clicking on this link. 
Image used with permission of Rogers Media Inc., All Rights Reserved
Catalogue information
978-0-7727-6124-8; 78 pages, $25