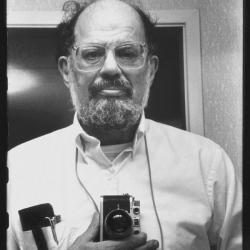 Allen Ginsberg, poet, needs little introduction. His seminal works, including "Howl" and "Kaddish," helped to define and legitimize the literary movement that came to be known as Beat. While his early works were considered controversial – "Howl" was famously tried, and acquitted, in court under obscenity laws – his writing eventually found public and critical recognition. His book Fall of America, published in 1972, won the National Book Award for Poetry, and in 1973 he was elected a member of the American Academy and Institute of Arts and Letters. In fact, Ginsberg can be considered one of the last of the household-name poets in North America.
Less well known, however, is Allen Ginsberg, photographer. Yet since the late 1940s, when Ginsberg was discovering his literary voice and befriending many of the writers who helped to lay the literary foundation of the Beat movement, including William S. Burroughs and Jack Kerouac, Ginsberg's camera was candidly capturing the general spirit and ethos of the Beats. We only know many of those early images of Burroughs and Kerouac, along with Neal Cassady (the figure popularized as Dean Moriarty in Kerouac's On the Road), because of the photographs taken by Ginsberg.
Later, with the encouragement of noted photographer Robert Frank, Ginsberg began to take the art form more seriously. As his fame continued to rise – not just for his poetry, but for his advocacy and crusading social justice – his camera continued to document his rich circle of friends and associates.
This exhibition features photographs – some well known, others more obscure – from the Fisher's Ginsberg Photography Collection, the largest collection of Ginsberg prints in the world. It traces Ginsberg's friendships with the Beats, through to the period when he wrote his seminal work, "Howl," along with exploring his photography from the mid-1980s up to his death in 1997. Complementing the photographs are a number of rare print materials from members of the Beats, including Jack Kerouac and William S. Burroughs. Complementing the photographs will be a number of rare print materials from members of the Beats, including Kerouac, Burroughs and Gregory Corso, along with Ginsberg books and broadsides and materials that inspired him over his lifetime. 
This exhibition is curated by John Shoesmith of the Fisher Library.
An audio tour of the exhibition, narrated by the curator, is available on Soundcloud via this link and on the Fisher's iTunes channel.
There will be three opportunities for a curator-led tour of the exhibiton. The first will be held on Thursday February 22, the second will be on Thursday March 22. Both of these tours begin at 5 pm. A third tour will be offered on Thursday April 19, which begins at 6 pm.
Catalogue information
978-0-7727-6123-1 (soft); 54 pages; $20