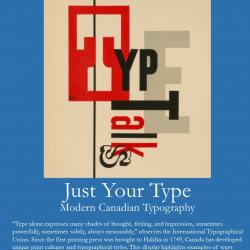 Type alone expresses many shades of thought, feeling, and impression, sometimes powerfully, sometimes subtly, always measurably," observes the International Typographical Union. Since the first printing press was brought to Halifax in 1749, Canada has developed unique print cultures and typographical styles. This display highlights examples of ways printers used, sold, and talked about type in modern Canadian history, and in doing so how the ways in which type was viewed and understood have evolved.
Be sure to check out material from our collection in February's monthly display!
Exhibit curated by Megan E. Fox, installed by Linda Joy.