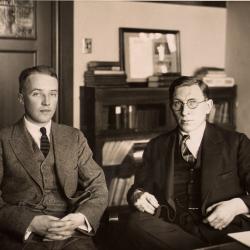 In celebration of the centennial anniversary of the discovery of insulin at the University of Toronto, the Thomas Fisher Rare Book Library has mounted this online exhibition featuring highlights from the Library's collection of original documents relating to the history of insulin research.

The exhibition features material originally selected for an exhibition that took place at the Fisher Library in 1996, curated by the Library's former Assistant Director, Katharine Martyn. This digital re-mounting includes many of the same significant documents from the original exhibition, along with an important essay by historian Michael Bliss, republished here for the first time.
This digital exhibition was assembled in 2021 by Alexandra K. Carter and Natalya Rattan.
Exhibition link: The Discovery of Insulin at the University of Toronto: An Exhibition in Celebration of the 100th Anniversary