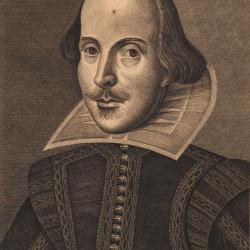 The year 2016 marks four hundred years since the death of William Shakespeare. To honour this milestone, the Fisher Library opens the year with a new exhibition that explores how Shakespeare's works shaped ideas of the world beyond England, how his plays imagined self and other through language, geography and mythology and how, in turn, the production of atlases, dictionaries, and histories influenced Shakespeare's world-making art. Highlights of the exhibition include a selection of Shakespeare's printed plays and poems, from the First Folio of 1623 through to recent craft productions, including the sumptuous Play of Pericles (2009-2010) from British Columbia's Barbarian Press. In addition, the exhibition features early source material such as Holinshed's Chronicles (1587) and Plutarch's Lives (1579) along with a range of Renaissance genres and forms, from maps to bibles to works of poetry, anatomy and heraldry. Later editions of Shakespeare and experiments with his works are also prominently featured in the exhibition and accompanying catalogue.
Lead Curator, Scott Schofield, Huron University College at Western University, has collaborated with Peter Blayney, Alan Galey and Marjorie Rubright (all from the University of Toronto) on the exhibition. To view a video narrated by Scott Schofield on the genesis of the exhibition, and how the curators approached their research, click on the video below.
Coming to view the exhibition? Why not download the free audio tour, narrated by the curators. You can stream it from your mobile device while viewing the exhibition, or download it prior to your visit. It's available on SoundCloud (please click on this link to go directly to the tour). It's also available on iTunes by subscribing to the Thomas Fisher Rare Book Library podcast in the iTunes store.
Exhibition hours are Monday to Friday, 9:00 am to 5:00 pm. Please note that the Fisher will be open on May 28 for the annual Doors Open festival. It will be the last day of the exhibition.
There are two separate catalogues for this exhibition: a standard soft cover, and a deluxe hardcover edition.
In conjuction with the exhibition, we will be running a screening series featuring film adaptions of Shakespeare's work at the Media Commons Theatre (3rd floor of Robarts Library). The third and last film in the series is the Stratford Festival's 1989 production of The Comedy of Errors. It will be screened on Monday April 18 at 5:30 pm.
Catalogue information
ISBN: 978-0-7727-6117-0 (paperback) | 96 pages | $30.00 | Ref #: 7073