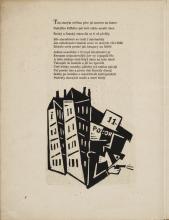 The Fisher's latest exhibition is now open. Maximum Imaginativeness: Modern Czech Book Design (1900-1950) features books and journals published in Czech from the turn of the nineteenth century to the late 1940s. Examples range from the beautiful bibliophile movement, to works by avant-garde artists and writers centered around the literary association Devětsil. The exhibition, curated by Ksenya Kiebuzinski, Head, Petro Jacyk Central & East European Resource Centre, runs from Sept. 28 to Dec. 18, 2015.
Please click on the video below (or visit our YouTube page) for an introduction and overview of the exhibition, narrated by the curator.
Also, please join us at 6:00 pm on Thursday November 5 when Ksenya will be conducting a free tour of the exhibition. There's no need to register - simply meet inside the Fisher a few minutes before 6 pm.
Can't make the tour? Then why not do the self-guided tour of the exhibition. Please visit this page for audio clips of each case, along with a general introduction, narrated by the curator.