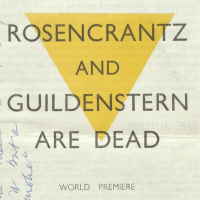 R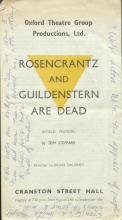 onald Bryden was an influential figure in the theatre world, both in the United Kingdom and Canada. Born in Port of Spain, Trinidad, he was sent to boarding school in Toronto during the second world war. He went on to study English at the University of Toronto and then at King's College, Cambridge. After graduating, he began to write book reviews, and eventually migrated to the theatre, becoming one of the leading London theatre critics in the 1960s and early 1970s. He returned to Toronto in 1976, accepting a position as visiting professor at the University of Toronto's Graduate Centre for Study of Drama. He was subsequently the centre's director for ten years, as well as serving on the boards of several theatre companies, including the Stratford and Shaw Festivals.
Bryden died in 2004. His daughter, Pier Bryden, donated his papers to the Fisher in 2005, with a subsequent donation in 2008. The papers are a delight for lovers of the theatre, and are rich in correspondence with writers such as Derek Walcott, Graham Greene, Mordecai Richler and Tom Stoppard.
His relationship with Stoppard is particularly noteworthy. In fact, Bryden is often credited with "discovering" the young playwright when he wrote a glowing review of the 1966 world premiere performance of Stoppard's now-famous Rosencrantz and Guildenstern Are Dead at the Edinburgh Fringe Festival by the Oxford Theatre Group. (Purportedly the performance had six critics and but one paying customer in the audience.) While the other reviewers were dismissive, Bryden was effusive in his praise in a review for the Observer, calling the play an "erudite comedy, punning, far-fetched, leaping from depth to dizziness." The next day, Bryden's predecessor at the Observer, Kenneth Tynan, who was running the National Theatre, requested a script. Within a year,  the play was revived by the National, then moved to Broadway, and resulted in a critical turnaround.
Among the material in the Bryden Papers is the original theatre programme for that premiere performance of Rosencrantz and Guildenstern, annotated by Bryden. It is pictured below.
The Ronald Bryden Papers are contained in two separate collections, MS Coll 00461 and MS Coll 00548. (Finding Aids can be accessed by clicking on the links.)