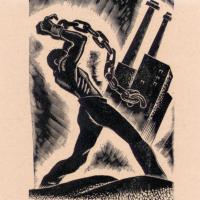 Robert Kenny, the informal archivist of the Communist Party of Canada (CPC), was an avid collector of books, periodicals, pamphlets, documents and ephemera related to the radical and revolutionary left. While Kenny's focus was on pro-Soviet material, his collection also included a great deal of material produced by other elements of the extra-parliamentary left, including Maoist, Trotskyist, Anarchist and New Leftist groups. The collection is particularly strong in Canadian and U.S. material but also includes substantial holdings from Europe as well as Asia and Latin America. Since the acquisition of Kenny's massive collection in 1993, it has been augmented by gifts from other donors. Further contributions in this field are welcome.
In addition to printed material, the Kenny collection includes a number of interviews recorded between 1983 and 2015 with supporters of the CPC and other far-left tendencies. "Some History of the Kenny Oral History Project" provides an overview of these interviews and the background to them.
The following interviews are available on Fisher's SoundCloud account - click on the links to access the individual playlists:
Ray Stevenson: Communist Hard-Rock Miner
Lil Greene (and Ray Stevenson)
Geoffrey White - [Transcription]
Karen Levine1977 Interviews
In 2020 Karen Levine generously contributed interviews she did in 1976-77 with members and former members of the CPC about the impact of Nikita Khrushchev's shocking 1956 denunciation of Joseph Stalin.
For background and commentary see: "Some Sidelights on Canadian Communist History - On Karen Levine's 1977 Interviews."
The following interviews by Karen Levine are available on the Fisher's SoundCloud account:
The following 1961 lecture by Robert Kenny is also available on Fisher's SoundCloud account: