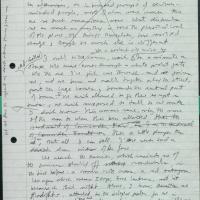 The Margaret Atwood Papers are among the Fisher Library's most treasured - and highly accessed - literary manuscript collections. The archive is a near-complete representation of Canada's grande dame of CanLit professional life, consisting of drafts of her poetry, short stories and novels. In short, her entire literary output since the early 1960s up to the present day is represented.
The Margaret Atwood Papers consist of material related to the literary output of Margaret Atwood. The bulk of the collection consists of holograph drafts and typescripts of Atwood's published work - including poetry, short stories, novels, dramatic works, non-fiction - as well as galleys and page proofs. The papers also include considerable unpublished material.
The collection also includes original art work as well as correspondence, largely editorial. Some personal letters are included, but personal correspondence after 1967 is restricted. There is very little memorabilia or printed material documenting Atwood's personal life. Rather, the focus of the collection is almost completely on Atwood's literary work. Biographical material exists only for the pre-1967 years.
Some files restricted.
Margaret Atwood retains copyright and literary rights to all material written by her. Requests for permission to publish should be referred to her at:
c/o McClelland & Stewart, 75 Sherbourne St., 5th Floor, Toronto, Ontario M5A 2P9.
To photocopy unpublished material or more than 50 pages of manuscript material, the reader must receive permission from Margaret Atwood's office. Please contact the Fisher Library for contact information.
Margaret Atwood's home page can  be found here.