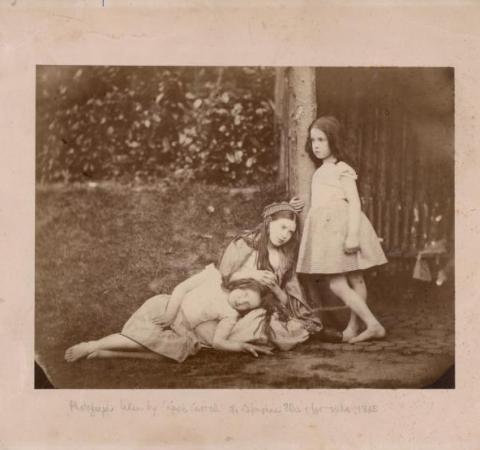 The Joseph Brabant Lewis Carroll Collection was donated to the Library in 1997 by Joseph Brabant and Nicholas Maes. It is one of the finest private collections focused on Carroll to have been in private hands, and is the largest and most valuable single-author collection in the Fisher Library. The collection contains first editions and related material by Lewis Carroll and Charles L. Dodgson, including long runs of Alice's Adventures in Wonderland from 1865 through to the end of the 1990s.
The collection is well-represented by countless illustrators of the Alice books; translations in over 30 languages; critical and biographical material about Carroll and Dodgson; as well as pamphlets and ephemera.
Of particular interest is the original photograph (seen at left) of Dymphna Ellis and her two sisters, Mary and Bertha, taken in 1865, accompanied by a 4-page presentation letter. A pioneer photographer, Carroll was very active in this hobby between 1856 and 1880. Although he took some 3000 photographs, most have been lost or destroyed.