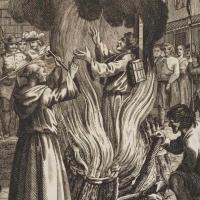 First published in 1563, John Foxe's Actes and Monuments, better known as The Book of Martyrs, was one of the most elaborate early books produced, with vivid woodcut illustrations. The book is an account of Christian martyrs and martyrdom throughout Western history, with an emphasis on the Protestant martyrs of the early 16th centuries.

In May of 2008, Professor Andrew Patenall, a retired English professor from U. of T.'s Scarborough campus, and his wife Leslie Coates donated to the Fisher one of the most comprehensive collections of Foxe's Book of Martyrs ever assembled in North America, rivalled only by that at Ohio State University. Some sixty editions, collected over thirty years, and dating from the first printed in 1563 to a near-contemporary 1973 issue, now complement the Fisher's other strong holdings in the history of Protestant thought, namely the Forbes and Knox College collections.

Cataloguing the collection began in March of 2009.  Each edition is fascinating in its own right, and the earliest ones bear witness to the various and sundry interventions which Foxe himself made to his books while they were actually going through the presses.  Since most of Professor Patenall's books are in their contemporary bindings, their early provenance is often quite easily determined and always interesting to research.