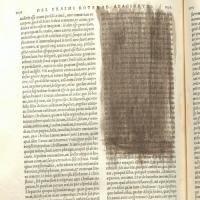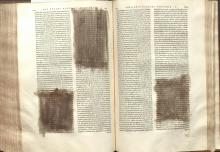 Another treasure has been found among the books donated to the library by the late Professor Ralph Stanton: a 1541 publication of the Adagiorum of Erasmus. There is no other copy of this particular edition, printed by Sebastianus Gryphius in Lyon, at the University of Toronto. 
What really sets the Stanton copy apart, however, is the vigour with which it was censored, probably in the latter part of the 16th century. So earnest was the censor that at one point he actually removed pages, glued the remaining leaves together, and expunged the text with black ink, all in the same place.  Erasmus, of course, was one of the great infants terribles of late medieval Catholicism, and as early as 152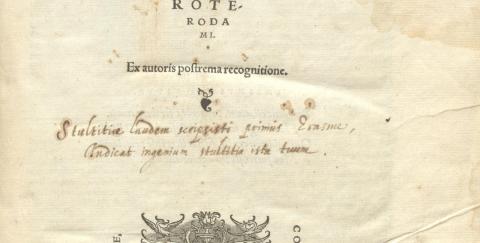 0, scholars were complaining that his adages were little more than a thinly veiled apologetic for the emerging Protestant movement. In 1541, all of Erasmus's books were forbidden by the Sorbonne, and in 1559 they were incorporated into the universal Roman Index of forbidden books.  It may have been the anonymous censor himself who added this Latin inscription (see detail below), in his own hand, to the title page of the Stanton copy, summarizing his opinion of Erasmus and his efforts: "O Erasmus, you were the first to write the praise of folly, indicating the foolishness of your own nature."