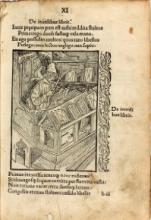 ISBN 0772760551, 132 pages; $30.00 | Ref. #7033
This catalogue is available exclusively through Oak Knoll Press (click on link to order)
This exhibition, mounted to mark the fiftieth anniversary of the Department of Rare Books and Special Collections, reveals something of the vast range and depth of holdings of the Thomas Fisher Rare Book Library at the University of Toronto. Divided into several sections, it features a variety of items from the library's collections of early manuscripts and printed books, Shakespeareana, science and medical texts, Enlightenment materials, juvenile drama artifacts, Anglo-Irish literature, Canadiana, as well as the evocative artistic works of Thoreau MacDonald. In addition, the exhibition highlights the personal art of collecting as well as examples of the fine art of book binding. The exhibition and accompanying catalogue were prepared by the director of the Thomas Fisher Rare Book Library, Richard Landon.