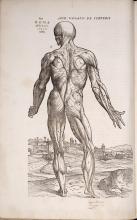 ISBN 077276056X 68 pages; $30.00 | Ref. #7035
This catalogue is available exclusively through Oak Knoll Books (click on link to order)
This exhibition commemorates the seventieth anniversary of the founding of Associated Medical Services which has done much to promote the study of the history of medicine at the University of Toronto, and was instrumental in acquiring the Jason A. Hannah Collection in the History of Medicine for the Fisher Library. Books exhibited include some stunning anatomical atlases, important medical landmarks, such as the first editions of Andreas Vesalius (1543) and Edward Jenner (1798), and other lesser known books with illustrations.